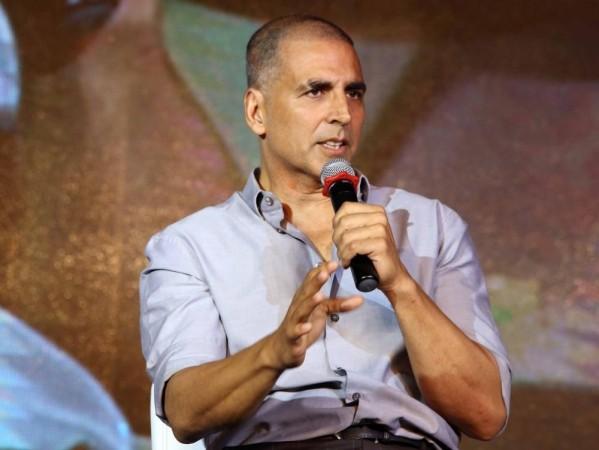 The Khelo India School Games 2018 is taking the entire nation by storm of late as the best of sporting talents from schools across India are giving their best performances in New Delhi.
For the first time ever, famed Indian broadcaster Star Sports has taken the onus of covering the entire event, besides the good old Doordarshan, to make the games reach across every Indian household and the future sports stars.
Bollywood superstar Akshay Kumar was present at the Indira Gandhi Indoor Stadium at the national capital on Tuesday February 6 to give away his experienced opinion on how the youth can really benefit from the games and the diets and the habits they should get rid of to become an irresistible force.
Akshay, 50, is one of the fittest actors in the history of Indian cinema.
"I get up in the morning at 4 - 4:15 am and I sleep by 8:30 - 9 pm. If you want to do something in life, it is very essential to make your body disciplined," said the 'Padman' actor, in an interview with Star Sports.

"I also appeal to the youth to stay away from artificial foods that they have started eating lately, like whey protein bars, artificial American products and so on... The unnatural food items that increase stamina.
"I am 50 now and have never taken any unnatural food item. I request you all to have natural foods, especially maa ke haathon ka khaana (food made by mothers).
"Keep on playing and continue your studies as well at the same time. Also, stay away from those mobile games and computer games. Those put a strain in your eyes and the neutrons in your mind also gets damaged," he added, sounding a word of caution.
Akshay also played a short game of badminton with Manipuri lad Maisnam M, who defeated Karnataka's Satish Kumar in straight sets earlier in the day.
The Bollywood actor, who holds a Canadian citizenship, also thanked the PM Modi government for the wide promotion they are doing for sports.
"I'm very thankful to our government to bring this out. To start off giving them this exposure from the school level itself is noteworthy. Very soon, we will be able to bring medals in every sport in the Olympics. That is a promise because this was a very essential thing that was needed to be done. Hats off to our government.

"Even when the British were ruling, India won three gold medals in the Olympics. But there hasn't been a government since who has taken the initiative of promoting sports in the best way possible. Getting them up to play right from when they are in school was the need of the hour.
"Even more important than nurturing the talent is to provide them [these kids] security."