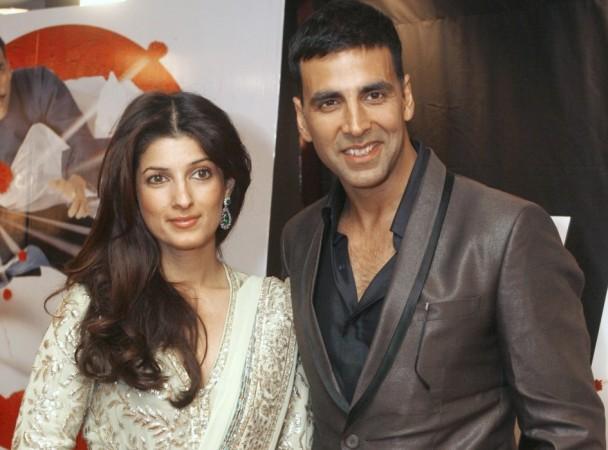 Akshay Kumar and his wife Twinkle Khanna are in fresh trouble as a few serving and retired Army officers have collectively sent a legal notice to the star couple for arranging an auction of the naval costume for charity that the actor wore in the movie Rustom.
As many as 21 people including eleven serving Army officers, 7 retired officers, one Air force officer and a naval officer's wife have sent the legal notice to Akshay and Twinkle, according to Republic TV. The notice stated that they would take legal action against the duo if they don't stop the auction of the naval costume used in the film.
The notice stated that auctioning of the costume, with insignia and badges, will pose threat to the security of the nation as it might land up to the hands of anti-national elements.
The entire ruckus started when an Army officer had written an open letter to Twinkle, criticizing the actress for announcing to auction the uniform.
Read the complete legal notice as published in Republic TV below:
"1. That through this notice, my clients would like to bring to your notice that the uniforms resembling those of armed forces, which is presently being put for auction by you addressee No. 1 on your website on behalf of addressee No. 2 & 3 under the head "Akshay Kumar's Rustom Naval Officer Uniform", poses a potential grave threat to national security, as the said uniform, insignia and badges could pass for genuine service clothing, and can find their way to anti-national elements who can potentially use it to foment trouble.

2. That it is pertinent to state here that after the attack at the Air Force Station in Pathankot claiming lives of seven security personnel, I issued guidelines on 08.01.2016 and civilians across the country have been asked not to sell combat cloth, uniforms and equipment as "it is illegal" to do so. The Army in the said press release has further appealed and requested the public to adhere to the guidelines in national as well as their own interest.

3. That by putting in auction the "Akshay Kumar's Rustom Naval Officer Uniform" you have shown no respect for national interest but have also played with the sentiments of armed forces personnel and their widows including my clients, who are retired, as well as serving armed forces officials and their family members. There can be no greater cause than national interest. As a matter of fact, till date no uniform or medals has been put for auction. The reason for the same being an officer's uniform is bestowed as a singular honor on a commissioned officer by the President of India for life. It is not a contract but entails unlimited liability for the nation's sake and thus the array of medals and ranks, insignia are for the discerning eye the resume of the one who proudly wears it.

4. That you addressee No.3 have put up on your Instagram account an image of a Naval uniform with complete regalia, medals, insignia and ranks terming it as the "Original Naval uniform" worn by your husband, addressee No. 2. It is brought to your notice that your husband addressee No. 2 is not entitled to wear any armed forces uniform of any rank including that of a Naval officer. You are hereby called upon to remove the same forthwith failing which necessary action shall be taken against you under the relevant provisions of the Indian Penal Code.

5. That you addressee No.3 had been advised by my client on social media on 28.04.2018 to desist and cease from passing off a piece of costume as an original Naval uniform. However not only you remained adamant in refusing to take down the offensive phraseology, but addressee No.2 has gone on to publicly state that if someone is feeling bad about the disrespect to the Naval uniform, he cannot help it. This amounts to forcible disregard to the sentiments of serving and veteran soldiers and harboring a feeling of disrespect and contempt for the uniformed ranks.

6. That dignity and honor trumps all for a soldier. For a soldier, a uniform is like a flag (of the unit, service or nation) and there are laid down protocols and procedures to handle its disposal in consonance with the dignity, formality and emotions attached to it. They fight for Naam, Namak and Nishaan (Reputation, Fidelity, Flag/Standard) whose physical manifestation is only the Uniform. Honour in a uniform is priceless, sacrosanct and trumps all. Armed Forces as an institution with immense pride do not put any "commercial price" on their honor. To go ahead with the auction of a uniform is to disrespect the uniform that is earned by toil, sweat and blood which is placed on the mortal remains of the solider along with the Tricolor. Uniform is hung and not discarded and never auctioned whatever the situation, gratification or cause.

That in light of the above, you addressee No. 1 to 3 are jointly and severally called upon to immediately stop the auction of "Akshay Kumar's Rustom Naval Officer Uniform" failing which my clients shall be constrained to take appropriate legal action against you without any further notice entirely at your risk cost and consequence.

Copy of this Legal notice is also being sent to you by electronic communication. You are further liable for the Legal Costs of Rupees One Lakh and Ten Thousand for this Legal notice and are called upon to submit the same in the "Bharat Ke Veer" corpus and send the deposit receipt to the undersigned.

A copy of this notice is also sent to addressee No. 4, The Hon'ble Raksha Mantri to take immediate action in national interest to stop the auctioning of "Akshay Kumar's Rustom Naval Officer Uniform" and take necessary action against the addressee No.1 to 3.

Copy retained for further reference and record."