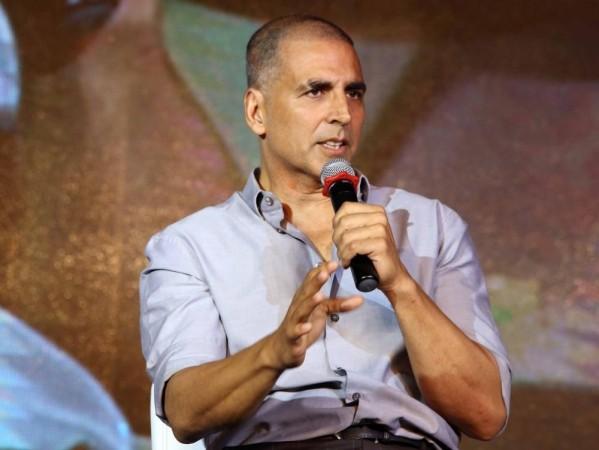 At a time when the Narendra Modi government is facing backlash for the rising fuel prices, actor Akshay Kumar is getting trolled for deleting an old tweet that had addressed the issue.
During the UPA government rule in 2012, Akshay had tweeted regarding the fuel price hikes, mirroring the concerns of commoners. "Guys, I think it's time to clean up your bicycles and hit the road! As per sources, expecting another petrol price hike. [sic]," the tweet had read.
Now as anti-Modi squad has been slamming the current government for the same reason, Akshay apparently found himself in an uneasy situation. The actor is believed to be on good terms with the prime minister and had also endorsed the Modi government's Swachh Bhaarat campaign.
One parody Twitter account retweeted the Padman actor's 2012 tweet, mocking him with words saying, "Akshay Sir, Big Fan! Can you please lend me your bycycle (sic)? I'll get it cleaned."
What triggered a series of trolls is the fact that soon Akshay's tweet was deleted. His act of deleting the old tweet, and not saying a single word against the current price rise, irked on social media.
However, it's not just Akshay. Many other Bollywood celebs too are being trolled for having been vocal about the fuel price hike during the UPA government but maintaining silence now. Others who are facing backlash on social media are Amitabh Bachchan, Anupam Kher, Vivek Agnihotri among others.
Superstar @akshaykumar deletes his outrage tweet on rising fuel prices, as it could have disappointed our soldiers at the front. No other foreigner cares for Indian Army this much. ???? pic.twitter.com/CwCvPURR5u

— Rofl Gandhi (@RoflGandhi_) May 21, 2018
Makes perfect sense why Chetan Bhagat, Akshay Kumar, Sri Sri, India Today journos, Suhel Seth etc who were bothered by petrol prices in 2013 are chill about even higher prices now. Since 2014, everything in India has been powered by Modi's gas

— IndiaExplained (@IndiaExplained) May 21, 2018
On the other side, Akshay's Wife Twinkle Khanna is also one celebrity who often finds herself being attacked by trolls for various reasons. However, she recently told IANS that she pays no attention to trolls as she believes that is the best way to deal with them.
Meanwhile, Akshay and his wife were in news recently when their decision to arrange an auction for the Navy officer's uniform that was worn by the actor in the film Rustom. Many active and retired security officers opposed the move saying that it was against the honor of the country's security force.