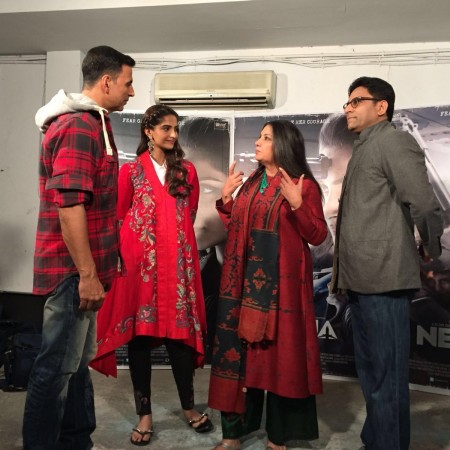 The team of "Neerja", who is on a promotional spree, got a surprise visit from a Bollywood superstar on Wednesday. "Airlift" actor Akshay Kumar paid an impromptu visit to "Neerja" actress Sonam Kapoor, Shabana Azmi and director Ram Madhvani in Mumbai.
Sonam, Shabana and Madhvani were promoting the film at a suburban studio on Wednesday and Akshay was at the same venue for work. When he heard about "Neerja" team being present in vicinity, he decided to pay them a surprise visit.
Sonam, Shabana and Madhvani had a brief interaction with the "Airlift" actor, who also wished them good luck for the film. Akshay also said that he is looking forward to watch the film.
Directed by Madhvani, "Neerja" features Sonam Kapoor in the title role, while Shabana plays the role of her mother. The film is slated to be released worldwide on 19 February.
"Neerja" is based on the real life story of braveheart air hostess Neerja Bhanot, who was shot dead by terrorists during an attack on a Mumbai-New York flight on 5 September, 1986. The 23-year-old air hostess helped 359 of the total 379 passengers on board the hijacked Pan Am Flight 73 before terrorists killed her.
The film has received tremendous appreciation from Bollywood celebs and survivors of the ill-fated flight. More than 200 survivors also thanked the makers for making the movie on Neerja, who became the youngest recipient of the Ashok Chakra -- India's highest peacetime military award.
A daughter of one of the pilots of the ill-fated flight also wrote an emotional letter to the makers of the film describing the crucial 48 hours when they were in the flight.
The touching letter penned by the pilot's daughter Nicole Thomas Fredrick reads:
The film's trailer brings out the intense emotions that were going on at that time. I remember everything that happened in those 48 hours and this stirred up a lot of feelings for me again. My father would only grant interviews as long as it was about the heroism of Neerja. Pilots were extensively trained to evacuate the aircraft for negotiating power. In 1986, terrorists didn't know how to fly airplanes, so that was a bargaining tool to buy time. She did a lot to save the lives of Americans (specifically) and I will always remember that. I can't wait to see the film. Hopefully, it will release where I live.