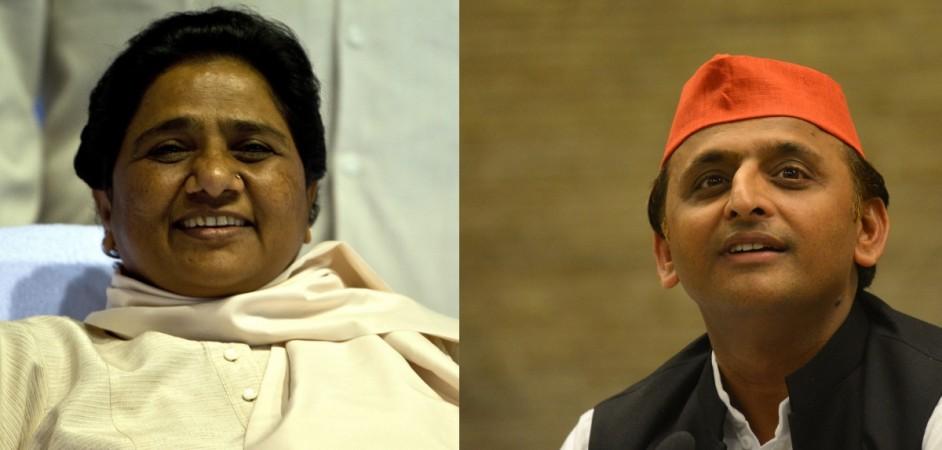 Samajwadi Party (SP) chief Akhilesh Yadav and the national president of the Bahujan Samaj Party (BSP), Mayawati, will hold a joint press conference in Uttar Pradesh on Saturday to announce an alliance in the state.
On Friday, the national secretary of SP, Rajendra Chaudhary, and the national general secretary of BSP, SC Misra, announced that the press meet will be held at 12 pm at Taj Hotel in Lucknow.
Recently, both the party leaders had held a meeting in Delhi to discuss the wide framework required for an alliance to defeat the Bharatiya Janata Party (BJP) in the Lok Sabha elections.
UP has a total of 80 Lok Sabha constituencies and both SP-BSP are planning to contest on 37 seats each. Amethi and Rae Bareli have been left out as they are the fortress of Congress leaders Rahul Gandhi and Sonia Gandhi. Four seats are likely to be left for Ajit Singh's Rashtriya Lok Dal (RLD) and Sanjay Nishad's Nirbal Indian Shoshit Hamara Aam Dal (NISHAD) Party.
Congress said that the SP-BSP alliance should be welcomed as both the parties and Congress are fighting against the same ideology.
Last year, Akhilesh and Mayawati had decided to bury their differences and to contest three bypolls.
This might just be the worst nightmare for the BJP after losing five states in the 2018 Assembly elections.