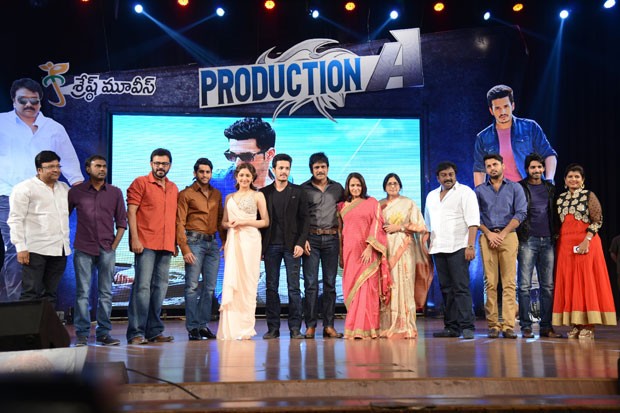 The much-awaited debut film of Nagarjuna's younger son Akhil Akkineni was launched on Valentine's Day. He will romance legendary Bollywood actor Dilip Kumar's granddaughter Sayesha Saigal in the film.
The launch of Akhil's first film was held at the Shilpakala Vedhika in Hyderabad on 14 February. It was a starry event, which witnessed the presence of Nagrjuna, his sister Naga Susheela, wife Amala and son Naga Chaitanya, Victory Venkatesh, VV Vinayak, Nithiin, Kona Venkat, Sayesha Saigal, Sushanth and many others.
Akhil's debut movie is a romance and action-oriented film with high comic quotient. The movie is directed by ace filmmaker VV Vinayak and produced by actor Nithiin. The makers have roped in Sayesha Saigal for the female lead role. The film is said to have a lip-lock scene between Akhil and Sayesha.
Sayesha Saigal is the grand-niece of actor Dilip Kumar and Saira Banu and daughter of Sumeet Saigal and Shaheen Banu. She has already been signed up for Ajay Devagn's Bollywood film "Shivaay". She is making her acting debut with Akhil's Telugu film. The actress was all excited to attend the launch of the movie. She also posted a photo of the event on her Facebook page.
On 10 February, Akhil Akkineni revealed on his Twitter page that he will be working with her in his first film. Besides posting her photo, the actor tweeted, "Introducing my actress, sayesha saigal. Her first film too so she's as nervous as I am :) wishing her all the best!"
On 13 February, Akhil Akkineni informed his followers that they could watch the launch of his movie live on TV. "Launching production A tomorrow. Live on all telugu channels. All fans who can make it,see you at Shilpa kala vedhika." A day later, he added, "Thank you all for your love and support. Love you all!!!!!"
His father Nagarjuna also thanked the fans of Akkineni family for their love. Soon after the launch of the film, the actor tweeted, "Thanks for all the love showered on Akhil/I love what naga Chaitanya said about his brother..all the best to Nitin,Vinayak and production A".