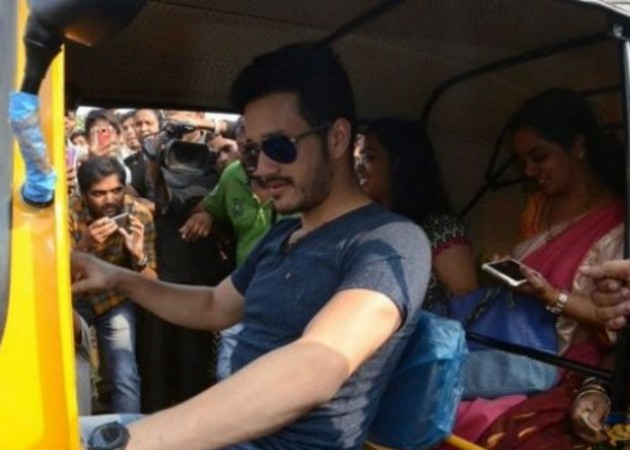 Actor Akhil Akkineni was spotted driving an auto-rickshaw to raise funds for his ailing fan, and this was part of actress-turned-host Lakshmi Manchu's upcoming Telugu TV show "Memu Saitham." Check out more photos of Akhil driving auto
Akhil Akkineni may be just one film-old in the industry, but he already has a huge fan following across the globe as he managed to impress the viewers with his dance and action in his debut movie "Akhil: The Power of Jua." A fan named Ashwith Reddy, who is suffering from a disease, wanted to meet the young actor.
Actress Lakshmi Manchu, who is coming up with Television show "Memu Saitam," was instrumental in conveying the boy's wish to Akhil Akkineni, who met his ailing fan at his residence in Khammam on Tuesday. He also went on to become an auto driver to raise funds for the fan and donated his earnings to Reddy and wished him a speedy recovery.
Akhil Akkineni was spotted ferrying some passengers in Khammam on Tuesday and his complete act of carrying passengers has been recorded and will be featured on the show, "Memu Saitam," which is expected to be aired on TV soon. The photo featuring Akhil driving an auto-rickshaw has gone viral on social media.
Lakshmi Manchu, who will host the show "Memu Saitam", has all thanks for the police for their support. On Tuesday, the actress-turned-host tweeted, "A big big shout out to the police of Kammam for being supportive for #memusaitham. Couldn't have done it without them. @AkhilAkkineni8 ❤️ (sic)"
Akhil Akkineni is all excited to be featured on the TV show "Memu Saitam" and he thanked the show host for inviting on the show. In reply to the host, the actor tweeted, "@LakshmiManchu thank you for letting me be a part of something so special:) congrats to you !! I feel so good (sic)"
"Memu Saitham" is touted to be the first Telugu TV show with a human angle and this show makes celebs step into the shoes of a commoner for a day. The show, which throws light on a common man's problems, is aimed to extend financial support to common participants. Before Akhil, actress Rakul Preet Singh turned a vegetable vendor and seen selling vegetables in Kukatpally, Hyderabad.