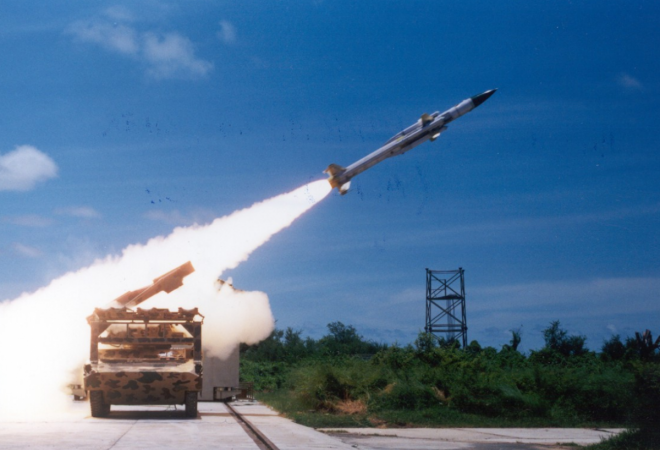 Ministry of Indian Defence is hosting the tenth edition of the biennial DefExpo in Chennai next month (April 11-14).
This year, the central government in a bid to give impetus to the ambitious 'Make in India' initiative and project the country as the new export for defence equipment, is offering more space for Public Sector Units (PSUs) including Hindustan Aeronautics Ltd (HAL), Defence Research and Development Organisation and domestic players such as Kalyani Group and Tata Advanced Systems and others, to showcase their equipments at the venue.
DefExpo organizers have confirmed that 42 international defense diplomats and companies are participating in the event. Besides HAL's aircraft, DRDO is also vying to sell its advanced missiles, and among them, Akash Surface-to-Air Missile (SAM) has the potential to attract foreign buyers.
Here are key facts about DRDO's Made-in-India Akash missile:
DRDO's Akash (meaning sky) surface-to-air missile is manufactured by Bharat Dynamics Limited (BDL) for Missile Systems and Bharat Electronics (BEL) for other radars and control centers
Akash is primarily used to hit an aerial target such as fighter jets, cruise missiles, and air-to-surface missiles
Akash is a medium-range missile with 30 km operating range having 18km flight ceiling (maximum altitude)
Akash is a supersonic missile with a maximum speed of 2.5mach (approx. 3,087 km per hour)
Akash can carry a warhead weighing up to 60 kg with command guidance system
[Note: With Command guidance system, a missile receives signals via ground station or an aircraft via radio control (or, in a wire-guided missile, through a wire connecting the missile to the launcher) to where to steer in order to intercept the target]
Akash runs on ramjet-rocket propulsion system, which not only offers thrust for the missile throughout most of its flight and also has the highest maneuver capability
Each Akash battery comes with four self-propelled Launchers having 3 Akash SAMs a piece, a Battery Level Radar - the Rajendra, and a Command post (Battery Control Centre).
Aakash is already under service of the Indian Army and the India Air Force
Akash is one of the five indigenous missiles developed by the Defence Research and Development Organisation (DRDO) under the Integrated Guided Missile Development Programme (IGMDP). Other four are Agni (Intermediate-range surface-to-surface missile), Trishul (Short-range low-level surface-to-air missile), Nag (Anti-tank missile) and Prithvi (surface-to-surface missile) series
Besides Akash missile, DRDO is also showcasing nuclear-capable Dhanush short-range ballistic rocket and 155mm class howitzer Advanced Towed Artillery Gun(ATAG).
Also, HAL will also be showing off its Advanced Light Helicopter (ALH) - Dhruv, Light Combat Aircraft (LCA) – Tejas, Light Combat Helicopters (LCH).
In the run-up to the next month's DefExpo 2018, we will be pushing a series of posts on individual military equipment and aircraft with features.
Stay tuned. Follow us @IBTimesIN_Tech on Twitter for the latest news on defense technology.