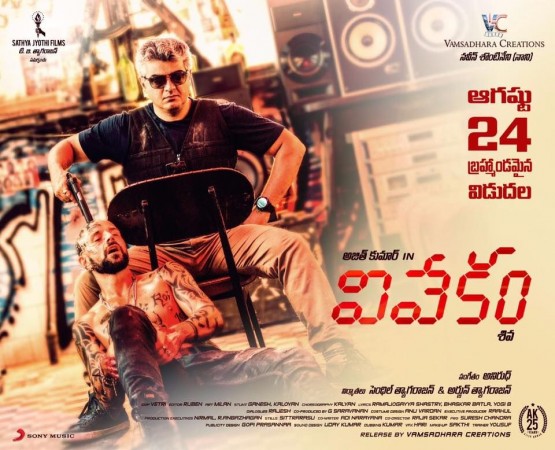 Telugu movie Vivekam, the dubbed version of Tamil movie Vivegam starring Ajith Kumar and Kajal Agarwal, has been leaked online and the piracy is likely to take a toll on collection at the box office.
Along with its original version – Vivegam, Vivekam was released in a large number of theatres in Andhra Pradesh, Telangana, Karnataka and few international markets on August 25.
A notorious gang of Tamilians allegedly recorded the film during its premiere in a foreign country on August 24. The gang leaked the film on its website on the day it hit screens and the website offers four different versions of the full movie with their size ranging from 1.4 GB to 400 MB for download.
"Vivekam (2017) Telugu Real DVDScr - Line Audio - [720p - DVDScr - x264 - MP3 - 1.4GB] - [DVDScr - 700MB - x264 - 1CD - MP3] - [DVDScr - XviD - 700MB - MP3] - [DVDScr - 400MB - x264 - MP3] - First On NET," reads the description with links for download of full movie of Vivekam featured on their website.
A viewer, who watched the pirated copy of Vivekam, says it is shot in a theatre. It's of poor quality and video is blurred in many scenes. The sound quality is worst as the loud cheers of the audience make the dialogues inaudible.
The movie's theatrical rights for Andhra Pradesh and Telangana have been sold for a whopping price of Rs 4.5 crore. Vivekam has collected approximately Rs 6.5 crore at the box office and it has earned Rs 3 crore for its distributors. It is expected to return their remaining investments with some profit shares.