Ajith took a break from his busy schedule and paid a visit to Tirupathi Balaji temple on Saturday, 7 November. It has become a practice for the actor to visit the Seven Hills temple before his films hit screens.
The actor is getting ready for the release of his next movie "Vedalam". Ajith was in the temple town to pray for the success of the Tamil movie and to have a successful knee surgery, which will be done on 24 November.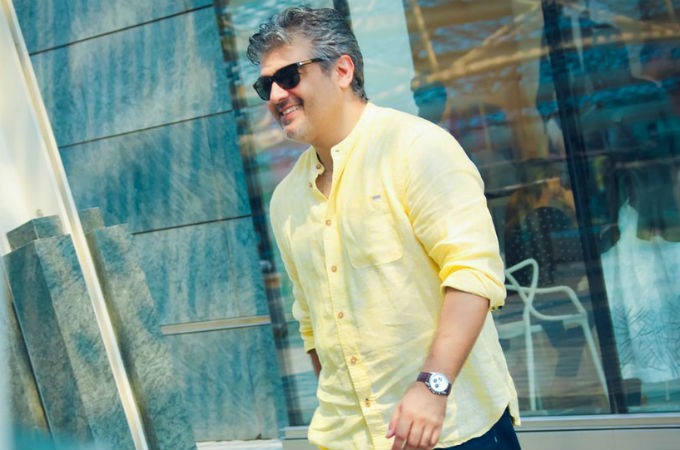 Ajith was spotted alone during his latest visit. Generally, he is accompanied by wife Shalini and family members.
It appeared the actor was finding it difficult to walk due to the knee injury and was seen limping inside the temple premises.
The actor spent about half an hour in the temple and quietly left the place to avoid unnecessary public attention. The chief priest blessed the actor for all his future endeavours.
It may be recalled that during his previous visit along with Siruthai Siva, Ajith had tonsured his head.
Meanwhile, the video and photos of Ajith's visit have gone viral on Internet. Several photos and a short clip of his clip are doing the rounds on social media.
'Vedalam' Set for Release
"Vedalam" is all set to release with a bang. The Tamil movie will hit screens on 10 November and the pre-booking of tickets has already started. As per the buzz, there is a huge demand for the tickets and this has made multiplexes to increase the screen counts. Single screens are apparently being forced to have midnight and early morning shows.
பக்தர்களுடன் வரிசையில் நின்று சாமி தரிசனம் செய்தார் தல அஜித்! #Thala #Ajith #vedalam pic.twitter.com/cXLbIVvYHG

â€" AJITHKUMAR FANS CLUB (@ThalaAjith_FC) November 7, 2015
Thala Latest Pic At Thirupathi Temple !! pic.twitter.com/0kYddbFfy2 â€" AJITHKUMAR FANS CLUB (@ThalaAjith_FC) November 7, 2015