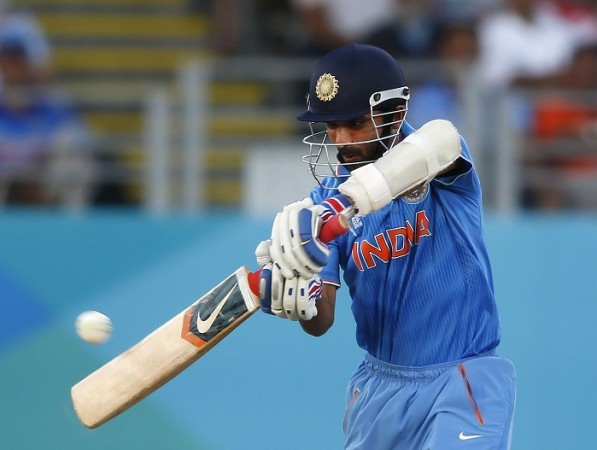 Ajinkya Rahane with 18 Test caps, 58 ODIs and 13 T20s is still young in international cricket, but the elegant right-hander has been grabbing eyeballs with his attractive batting style, which reminds former Australian skipper Steve Waugh of Sachin Tendulkar.
This is obviously a huge compliment to Rahane, who has been decent with the willow for India. Rahane scored a crucial century against Sri Lanka in the second Test match, which helped the visitors emerge triumphant.
Most of the Indian kids who grew up in the 90s idealised Sachin Tendulkar and wanted to become like him. So one should not be surprised when Waugh believes that Rahane has modelled his game on Tendulkar.
"I like Rahane and he is a quality player. He reminds me quite a bit of Tendulkar. He does not have a very big back swing. He obviously has modeled himself a bit on Tendulkar," PTI quoted Waugh as saying.
As far as the comparison goes, the media have been comparing Virat Kohli to Tendulkar as the Test skipper has been accumulating runs the way the Master Blaster did against other teams.
Waugh agrees that Kohli is a world class player, but could not help stop praising Rahane for his batting skills. The Australian legend feels Rahane is going to be a key batsman for India in the future as he will score lots of runs for the men in blue.
"(Virat) Kohli is a world class player, one of the best. But, I also like Rahane's technique. He has a very compact technique, has shots all around the ground and has a good temperament. I like him as a player and is going to score a lot of runs for India," said Waugh.
However, Waugh has been impressed with Kohli and his captaincy. Kohli, who led India in the recently concluded Sri Lanka series as his first full-fledged captain, helped the team win their first series in Sri Lanka after 22 years, which is a huge achievement.
The Indian team came back from 0-1 down to clinch the series 2-1, which also reflects the strong character in Virat Kohli's team.
"Obviously, to come back from one-nil down and winning a series in Sri Lanka is a major achievement. So definitely he is on the right track," said Waugh.
"He (Kohli) obviously has led the side well, and it is not easy to do that in an away series. So, as a captain he has got all the players going in one direction which is important. They believe in his captaincy," the Australian added.