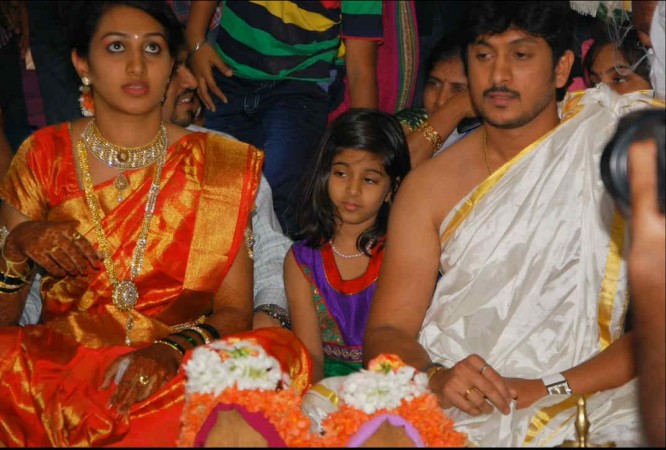 Kannada actor-turned-producer Ajay Rao tied the nuptial knot with his long-time girlfriend Swapna at a low-key wedding ceremony held at a temple in Hospet, Karnataka on Thursday, 18 December.
Ajay Rao was last seen in "Jai Bajarangbali", which was released on 12 December. During the promotion of the film, the actor had reportedly hinted at his impending wedding to Swapna without revealing the date and place. Within a week of the release, he has married.
The marriage was held at Huligemma temple in Hospet. It was a simple and private affair attended by family members and close friends. Director Shashank, who gave him a big break with "Krishnan Love story", was one among the celebs present at the marriage ceremony.
Talking to TV channels, Ajay Rao said, "We are newly-wed couple and we are not in mood to talk about our wedding. It is a love-cum-arranged marriage and we need the blessings of fans and media." When quizzed about his hush-hush marriage, he said, "We wanted a simple marriage. So we kept it as low-key affair."
Born and brought up in Hospet, Ajay Rao made his acting debut with director Prem's hit movie "Excuse Me" in 2003, but it was director R Chandru's 2008 movie "Taj Mahal" that gave him the first break in his acting career.
In a career spanning 12 years, Ajay Rao has starred in 17 movies. His last release "Jai Bajarangbali" has received lukewarm response from the film goers.
Ajay Rao has three big-ticket Kannada films such as "Krishna Leela", "Krishna S/O CM" and "Second Hand Lover" lined up for shooting. These movies are currently in production stage and are expected to release in 2015. He has also got few other offers but yet to finalise them.
Though Ajay Rao has many friends in the film industry, few were aware of his wedding. The actor is reportedly set to hold a grand reception for his colleagues in Bangalore. Reports suggest that he is yet to finalise the date and place of his wedding reception.