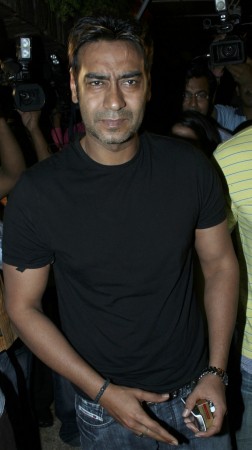 Actor-filmmaker Ajay Devgn is confident that his romantic drama film, "Son of Sardaar", will do well at the box office.
The film is set to hit the theatres on the same day when Shahrukh Khan's "Jab Tak Hai Jaan" is releasing i.e. on Nov. 13.
"We are confident about it from beginning. It is an entertaining film. It is a superb film. The pace and the way he (director) has made the film is fabulous... so have confidence," Ajay told reporters here, according to PTI.
The film directed by Ashwini Dhir is a remake of Telugu movie "Maryada Ramanna" and features Devgn, Sonakshi Sinha, Sanjay Dutt and Juhi Chawla in the lead roles.
The romantic film "Jab Tak Hai Jaan" which marks the comeback of director Yash Chopra after eight years may give a tough competition to Devgan's movie.
The trailers and song of JTHJ, starring Shahrukh Khan, Katrina Kaif and Anushka Sharma in the lead roles, have turned into a rage on YouTube and the movie is expected to be the biggest blockbuster movie of all time.
In a recent online poll conducted by Bollywoodlife.com, "Jab Tak Hai Jaan" has received overwhelming response as compared to "Son of Sardaar".
"Jab Tak Hai Jaan" received a huge 76.42 percent (3,996 votes), "Son Of Sardaar" received just 19.87 percent (1,039 votes) and around 3.71 percent (194 votes) said they would watch both films this Diwali, according to Bollywoodlife.com.
It seems Devgan's SOS might face a tough competition from Yash Chopra's last directorial film.
Meanwhile, Devgn along with his father visited Saibaba Temple in Shirdi, Maharashtra, on Friday to seek blessings for his "Son of Sardaar".