Aishwarya Rai Bachchan made her debut on Instagram on May 11 to promote her Cannes 2018 appearances. Within hours she garnered thousands of followers. Currently, she has 663,000 followers and still counting. She began her social media journey by uploading a close-up picture in which she was seen holding on to her 6-year-old daughter Aaradhya Bachchan.
On Mother's Day, Aishwarya, who has been posting adorable pictures with her daughter on her Instagram page, shared a picture in which she was seen kissing Aaradhya on the lips. She captioned the image which reads, "LOVE YOU UNCONDITIONALLY. Happiest Mama in the World."
Her well-wishers were going gaga over the beautiful bond between a mother and daughter and wished if they could also get pampered by their respective mothers in a similar way. But trolls attacked the actress over the photo.
"I don't know why Indians have picked up this weird western habit of kissing their kids in the lips! It's such a horrible thing to do! A lot of celebrities do it, to make themselves look modern or what I don't know," a user commented on the Instagram post while another user said that it's not good manner to kiss your daughter on the lips.
Another user commented, "I don't know about others but kissing 5 6 years old children on lips seems weird to me. Yuck."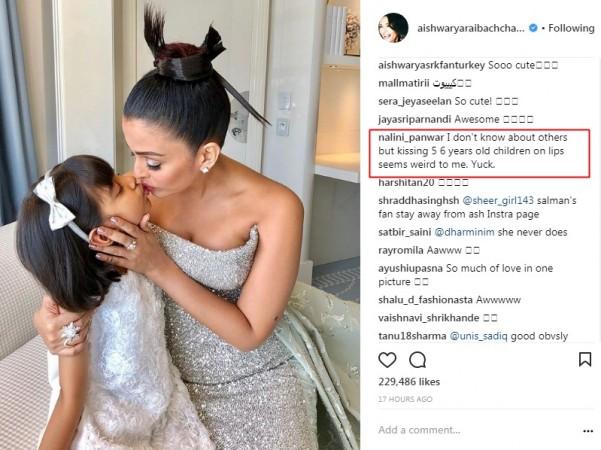 And there were others who slammed Aishwarya for pulling her daughter into the glamour world and taking away her childhood.
But Aishwarya's fans came to her rescue and gave the trolls befitting replies.
Meanwhile, Aishwarya, who clocked her 17th year at the film jamboree this time as L'Oreal Paris brand ambassador, wore a dramatic 'butterfly' gown by Dubai-based designer Michael Cinco for her first red carpet appearance. She took a confident walk with the exquisite three-metre train trailing behind and catching the attention of the crowd.
She walked the red carpet for the premiere of Eva Husson's French drama "Les filles du soleil", starring Iranian actress Golshifteh Farahani.
Aishwarya and Aaradhya were also seen striking a pose with Oscar-winning British actress Dame Helen Mirren. They were all smiles for the photograph.
Meanwhile, check out her other posts as well.