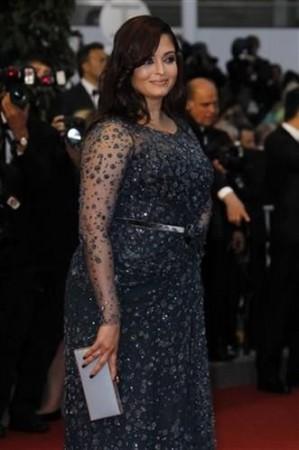 From pregnancy to delivery and post-baby weight gain Aishwarya Rai Bachchan's each step has now become a subject of immense media scrutiny.
The Bollywood superstar has not only gained fame in India, but has also been considered as India's best known face around the world. The actress has achieved international fame with her debut film "Bride And Prejudice" and has become the most famous and certainly the most glamorous Indian face in Hollywood.
But the actress has come under harsh criticism in India for her weight gain after giving birth to daughter, Aaradhya. Some media houses in India have slammed the actress for not losing baby-weight fast enough. One website posted a video of Ash titled "Aishwarya Rai's shocking weight gain," with her pre- and post-baby photos and elephant sound effects in the background.
Even her fans have criticized her saying, "She is a Bollywood actress and it is her duty to look good and fit."
However, the film industry has come in support of the actress who became a subject of 'too fat" controversy.
Earlier, actress Lara Dutta, Sonali Bendre and Kajol told media to leave the actress alone and let her enjoy her motherhood.
But this time father-in-law Amitabh Bachchan has taken it on his blog bigb.bigadda.com to defend her daughter-in-law.
Megastar Amitabh Bachchan on his blog wrote that he is amazed by the worldwide interest in celebrity lifestyle.
"Good issues do not create interesting programming, the sensational does, not just here in our country, but all over the world," Bachchan wrote on his blog bigb.bigadda.com.
"Celebrity interest is not just an Indian phenomenon, it is worldwide too. If you are celebrity, this is the cross you shall perforce have to carry with a smile. Do no wrong and you shall be safe, but be prepared for the worst even when a small wrong has been done."
"Celebrities are not some outer world aliens; they are as human as you and me. Mistakes and errors will be made and shall be highlighted. The courage and strength to continuously face it, is what counts. Some do a marvelous job, others succumb. Some make light of it, others get affected," he added.
"Each has his or her own way of dealing with it. But this must be remembered. Printed in black and white and seen now in colour on screens of idiot boxes, is a record for posterity and eternal. Whether it is right or wrong is not the issue," he said.
"What has been registered is registered for life and beyond too. Those that still live have opportunity to bear and deal with it as should they would. Those that have left us for heavenly abode, are not present today to defend or clarify an accusation or an opinion they may have disagreed with," he added.
Also Read: Aishwarya Rai Snapped at Mumbai Airport With Daughter Aaradhya and Family [PHOTOS]