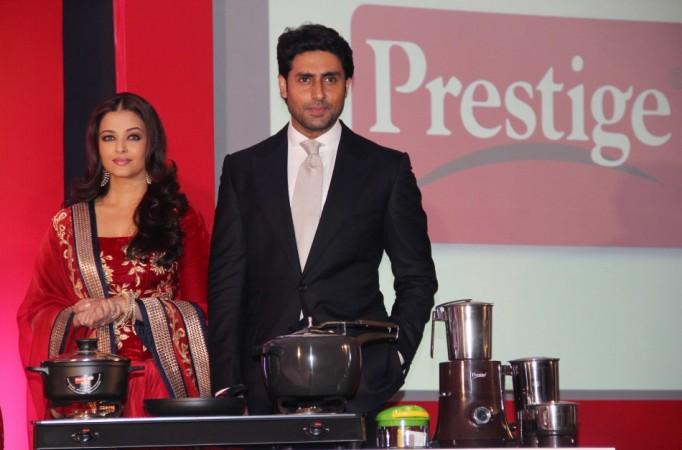 "Happy New Year" actor Abhishek Bachchan talked about the constant comparison with his wife Aishwarya Rai Bachchan, in a recent interview with a leading daily.
Aishwarya Rai is known as one of the most popular and influential celebrities in India and abroad. The Bollywood diva and former Miss World is also referred as the world's most beautiful woman.
Abhishek, when asked how he feels in the face of comparisons with his wife Aishwarya, has replied saying there is no comparison at all. The actor praised his wife and said she is more popular than him globally.
"Where's the comparison with Aishwarya? She isn't as popular as me, she is more popular. She is a bigger star than I am. I'm very happy and proud about it," Abhishek told the Hindustan Times.
Like a true gentleman, the actor also said he is happy when people applaud her for her work.
"It makes me happier when I stand behind her and see the world applauding her. I hope more men begin to think like that. It is not competition if you love someone and marry that person; you should be always happy about them," he added.
This is not the first time Abhishek has been asked about his sense of security in being married to Bollywood diva and former Miss World. But the actor always praised his wife for being the "most beautiful thing on earth".
"I believe she is and to me she is the most beautiful thing on earth. I see myself in the mirror every day and it is a horrific sight. So I am not competing, I can't. The reason why we got together wasn't cosmetic," Abhishek told Press Trust of India earlier this year.
The "Happy New Year" actor also clarified that Aishwarya didn't marry him because he is a Bachchan.
"She hasn't married me because I am a film star or I am a Bachchan and I haven't married her because she is the most beautiful woman on earth or one of the biggest stars on earth," he said.
Abhishek and Aishwarya, married in 2007, are known as one of the hottest Bollywood couples. They have appeared together in several films and ads, but their most memorable films are "Guru", "Sarkar Raj" and "Raavan".