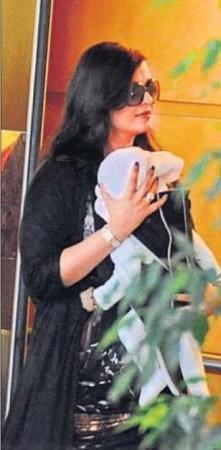 Aishwarya Rai Bachchan's daughter Aaradhya has been a fixture in the spotlight since her birth last year, and daddy Abhishek doesn't seem to like it one bit.
Since her arrival into the world, Beti B has attracted enough attention for some or the other reasons. The seven-and-a-half month old baby is currently in the news for her looks. Fans are now increasingly getting curious to catch a glimpse of the smallest member of the Bachchan clan.
Recently, a news channel was successful in capturing the little angle on camera. However, the media wasn't able to show her full face.
Abhishek was apparently not too happy about the recent reports, saying that his daughter was not an item to be displayed.
"I am not comfortable with that, I don't need to show her off. She is not an item that she has to be put up to display. She is just a small kid and Aishwarya and I would like her to grow up as a normal child," Abhishek told reporters.
"I know that her parents and grandparents (Amitabh Bachchan and Jaya Bachchan) are well known celebrity and public figures but she is not yet and let her enjoy her childhood. I have grown up in this industry and have been in this position so I understand the curiosity," he added.
Earlier this week, the 36-year-old actor defended his family for not showing Aradhya to the public. Unlike other celebrities, the Bachchans continue to keep the child away from the media, and are criticised for doing so.
"There is no attempt at secrecy or shielding anybody. We had a very normal upbringing till then. With Aaradhya too, we take her out, go for walks etc," he said in a recent interview with Gulf News.
"It's a tad unfair. If I don't show my daughter it is secrecy and if I go around showing her the right way, people say that I am flaunting her. You are damned if you do and damned if you don't," a furious Abhshek added.