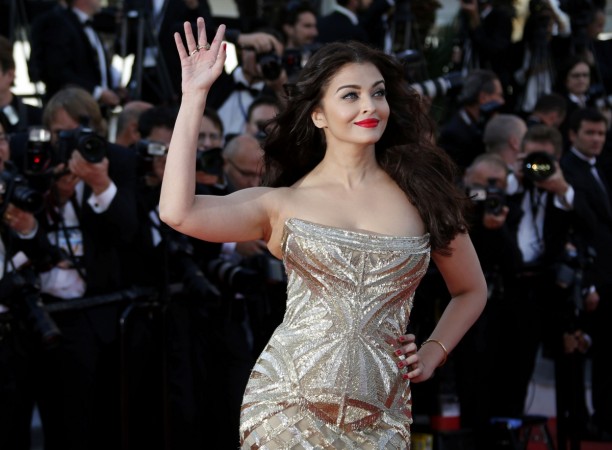 Aishwarya Rai Bachchan's Cannes Film Festival look is creating waves over social networking sites. Not only her fans, but her husband Abhishek Bachchan is also praising her red carpet appearance.
Aishwarya Rai stunned everyone when she made her first appearance at the Cannes Film Festival 2014 in Roberto Cavalli golden strapless gown. She looked gorgeous in that gown with minimum makeup and cascading hairstyle.
After the birth of her daughter Aaradhya, the actress had gained weight which became the subject of criticism. In 2012, when she attended Cannes Film Festival post pregnancy, she drew special media attention because of her 'puffed up' look. In 2013, she wowed the crowds at the red carpet in much slimmer look.
But this year, she has overcome her past fashion disasters when she posed in the golden gown on the red carpet during the premiere of "Two Days, One Night".
She mesmerized everyone with her look including Abhishek. The actor has been busy shooting his film "All is Well" and Pro Kabaddi League auction. He travelled to Mumbai and Shimla for the Kabaddi League auction and shooting of the film.
Abhishek took to Twitter to post that he hasn't slept since 52 hours because of the busy schedule.
Almost 52hrs without sleep! Eyes shutting... and the Mrs. Shows up looking like this!! Ok.. Eyes wide open now! pic.twitter.com/r8zIUTsBV0

— Abhishek Bachchan (@juniorbachchan) May 21, 2014
So 41 hours without sleep and counting.... But totally worth it. #ProKabaddiRevolution #AllIsWell — Abhishek Bachchan (@juniorbachchan) May 20, 2014
Abhishek is too expected to attend the film festival as the brand ambassadors of amfAR (American Foundation for AIDS research). The couple will host the gala dinner on 22 May which will be attended by Kenneth Cole, Heidi Klum, Sharon Stone, John Travolta, Maria Cestone and Dennis Davidson among others.