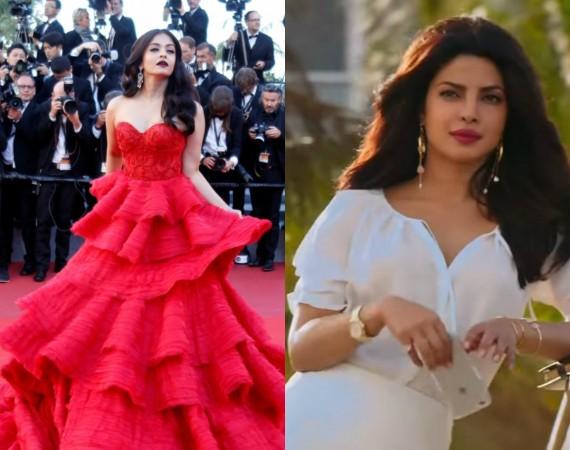 The 'purple lip' battle is on! Two of Bollywood beautiful divas are out experimenting with unconventional makeup and fighting for the title of who pulled off the risky colour purple the best.
Also Read: Cannes Queen Aishwarya Rai Bachchan brings her princess Aaradhya to the film festival; isn't she adorable?
On one hand, Aishwarya Rai Bachchan returned to 70th Cannes Film Festival yet again to sport the bold purple lips, the same colour that resulted in the fashion queen becoming the cause of many twitter memes. On the other, Baywatch actress Priyanka Chopra walked out in style sporting the same colour for a talk show promoting her first Hollywood film venture.
But who did it better? The two actresses seem to have adapted the colour flawlessly to match their outfits and skin tone.
First up: Aishwarya Rai Bachchan. The international fashion queen decided to revisit the lilac colour that drew her mixed reactions last year at the Cannes red carpet. As compared to last year, the 43-year-old star chose a bright purple lip shade for her latest appearance that shocked people a little less this time around.
Attending the French Riviera as the face of LOreal, the actress was styled by make-up artist Charlotte Willer. The diva was styled with an attention grabbing turquoise eye-liner that matched the purple lips well.
After giving the world a look at a new version of Aishwarya's purple lips from Cannes this year, Priyanka Chopra turned towards the colour during one of her Baywatch promotions.
To match her make up with the white and purple skirt outfit, the Quantico actress donned the purple lips, subtler than that of Aishwarya's, during her outing at New York's Times Square and walked in as the guest in Good Morning America.
Wearing a Derek Lam outfit, Chopra's lipstick matched the 34-year-old actress's look. The matt colour let the bright purple skirt grab all the attention.
Though both the versions of purple lips were outstanding, Aishwarya dared to risk the fashion disaster from last year and successfully adapt to the colour to make it her own. Whereas PC chose to play it safe. May be she had her share of memes from the Met Gala outfit that she did not want to dare anything out of her comfort zone and attract internet attention.
Whose purple lips do you find better? Let us know in the comments below.