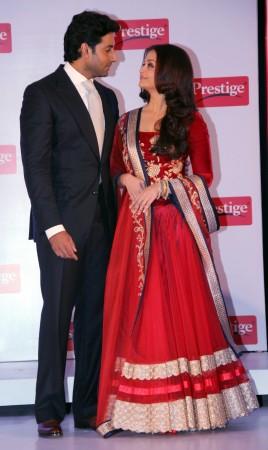 The rumours of Aishwarya Rai Bachchan's impending comeback to the silver screen gained momentum ever since the actress bounced back to her pre-pregnancy figure.
Reports of Aishwarya's next project have been gaining much attention, more so than her marriage, pregnancy and weight gain. But the former beauty queen has not confirmed about signing anything as yet.
Several reports had suggested that the actress might make her comeback with Shah Rukh Khan or in Karan Johar's remake of "Bemisal". But the reports were quashed by the Bachchan family.
However, it seems that the actress wants to make her big screen comeback alongside her husband Abhishek only.
Speculations have been doing the round that the actress might be cast opposite her hubby in "Happy Anniversary", but nothing has been finalised yet.
Recently, the actress told NDTV during an interview that filmmaker Farah Khan approached her for "Happy New Year" which she refused since she would be paired with Shah Rukh.
"Yes, I was approached for the film but I wasn't working opposite Abhishek in it, and it really wouldn't work out that way, so things didn't fall into place but soon, will be back soon," Aishwarya said.
Earlier, a source close to the actress told DNA, "Aishwarya was offered for the lead role, and ideally she might have considered it, but the film also stars her hubby Abhishek Bachchan, and he isn't paired opposite her. That was her reservation. She believes that if they come together in a film, they should be paired opposite each other, else the audience might reject the film."
Amid the hunt for a role that would play Abhishek's love interest, Aishwarya has signed for a Prestige commercial featuring them together as a couple.
Check out the advertisement here: