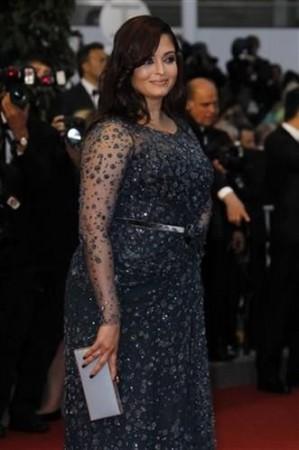 Aishwarya Rai Bachchan finally spoke after seven months about how her life has changed since she gave birth to her daughter.
The actress, who came under criticism for her post-pregnancy weight gain, said that motherhood is her top priority and she is enjoying every moment of it.
The former Miss World gave birth to daughter, Aaradhya, in November and since then both mother and daughter have been making headlines.
The actress in an interview to a newspaper talked about how her life has become quieter after Aaradhya's birth. "Life has become quieter, which is very nice; I am spending a lot of time with her and just enjoying being a family," Ash told the newspaper.
"I have learnt to manage my time better with work so that my family time isn't compromised too much. I prefer to take her with me on travels when the commitments are not too tight. My mother accompanies me to help with Aaradhya, so I am blessed that way."
The actress recently came under harsh criticism for her "oodles of weight" gain post pregnancy, but she isn't bothered about it. In fact the actress is enjoying her new role as a doting mother.
"It isn't surprising because in this industry it comes as standard when an actress becomes a mother the focus isn't on her health, it's how fast she lost her weight, I don't worry about this; to me, the well-being and the health of my family is more important than focusing on going back to my pre-pregnancy body in miracle time. It should not be taken to extremes," she said.
Ash, who believes in healthy weight loss, also gave some advice to women who are trying to deal with both motherhood and their work.
"Don't be too hard on yourself, and take time to relax and connect with your newborn. At times this seems impossible but it's an essential part of juggling motherhood and a career successfully. And no matter what you do, don't forget about yourself. I believe that when you look good, you feel good and more confident, so caring for your hair, skin and body should not stop. If anything, you should do more of that so you are refreshed and positive when you're around your child and family," she said.
"Becoming a mother makes you recognize so many things in life that you never realized before. Your priorities, your feelings and your future completely changes. It really is such a beautiful experience," Ash said.
The most ideal celebrity mother in Bollywood idolizes her mother as a role model.
"I have always idolised my mother. She inspired me to be a wonderful mother, the advice and support I have received is truly incredible and having her next to me when I travel is a blessing."