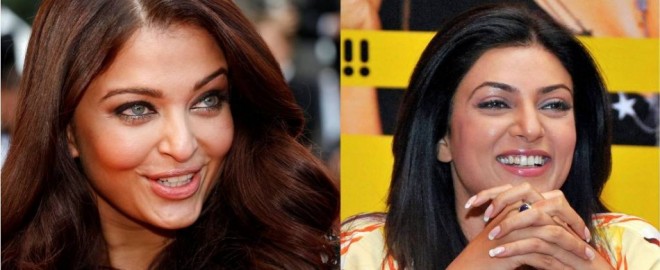 Former beauty queens Aishwarya Rai Bachchan and Sushmita Sen might share the silver screen for the first time.
After Aishwarya Rai, Prahlad Kakkar has reportedly approached ex-Miss Universe, Sen for his debut directorial film "Happy Anniversary".
Apparently, Kakkar approached Sen only after Bachchan's consent, Mumbai Mirror reports.
"Happy Anniversary" is a film based on married couple's life. Kakkar wanted to cast Aishwarya and her husband for the lead role in his film, as he thinks they are the ideal couple.
But the Jr Bachchan slammed the report last year and said nothing has been finalised yet.
However, Kakkar is confident that the "Devdas" actress will give a positive response.
Now a report carried by Mirror states that the "Kuch Naa Kaho" actors are reading the script and are expected to sign the dotted line soon.
If all goes well, Sen will be seen playing a substantial supporting role in "Happy Anniversary". The adman-turned-filmmaker recently spoke to Sen about her role in the film, which she loved it, a source told Mirror.
"If all goes well, we should have Sushmita in Happy Anniversary. It will be a pleasure to work with her," Kakkar confirmed it to Mirror.
Aishwarya Rai and Sen have never worked in a film together. Both the beauty queens were said to be arch rivals at one point of time.
The rivalry between the two started during their Miss India pageant in the 90s. During the final round it was tie between Aishwarya and Sen to win the Miss India 1994 title. But Sen won the title and Aishwarya became the first runners up after the tie breaker round.
Later they went on to win top titles in their respective beauty pageants of Miss Universe and Miss World.
But the beauty queens seem to have ended their rivalry and reached an amicable relationship.
When Aishwarya was criticized for her weight gain post the birth of her daughter Aaradhya, she received support from Sen.
Sen, who is a mother of two adopted daughters, advised Aishwarya to ignore the criticism. She also appreciated the Bachchan bahu for giving importance to her family and daughter.