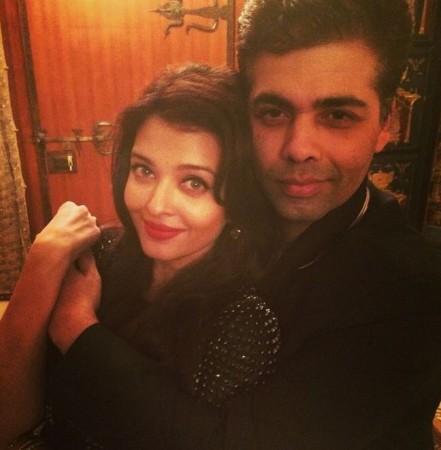 Aishwarya Rai Bachchan on her birthday announced that apart from "Jazbaa" she has given nod to two other directors. Soon after that, there were rumours about the films and the co-stars.
Earlier this month, Deccan Chornicle reported that director-producer Karan Johar has approached Aishwarya Rai for a film, which will feature Aamir Khan in the male lead role.
However, latest report suggests that it's not Aamir but Ranbir Kapoor who will work in Johar's film.
According to Daily Bhaskar, Johar has signed the "Bombay Velvet" lead pair – Anushka Sharma and Ranbir -- along with Aishwarya Rai for a film.
"Karan has signed Aishwarya Rai Bachchan, Ranbir Kapoor and Anushka Sharma for a film," Daily Bhaskar quoted industry sources as saying.
"Aishwarya who is making a very strong comeback is going to play a very different kind of role in the film. The film is yet to be titled. KJo is very tight lipped about his new film, Karan will direct the film himself after Student of the Year," the source added.
Johar is yet to make an official announcement about the project, but if it features Aishwarya and Ranbir then it will indeed be a unique pair.
Meanwhile, Aishwarya is set to make a grand comeback next year with three big projects in hand.
She will begin the shooting of her comeback film "Jazbaa" in December. "Jazbaa", which is an action thriller film, is directed by Sanjay Gupta and features Irrfan Khan, Shabana Azmi and Anupam Kher in important roles.
Aishwarya is yet to make an official announcement about the other projects. She said that she will make a official announcement with the directors and producers of the films.
"Besides Jazbaa, there are other scripts I have given the go ahead. I was wondering whether I should announce them today (her birthday), but with due respect to the director and producer, I shall do it with them in future. Other announcements I will do it with the directors I am going to work with. But it's an exciting and busy year ahead," she said during a press conference on her birthday.