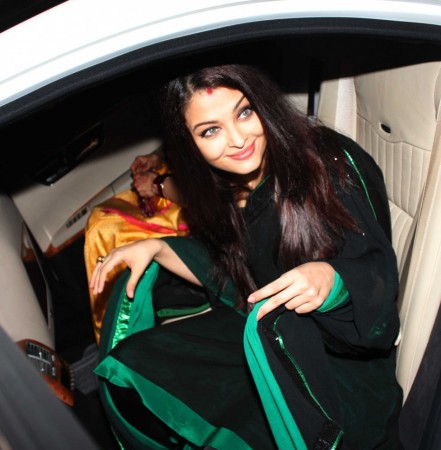 From movie goers to Bollywood celebrities, everyone is waiting for the release of action thriller "Dhoom 3". The film's trailer, which went viral on YouTube since its release, has garnered appreciation from top celebrities, including Aishwarya Rai Bachchan.
Aishwarya Rai, who has worked in the second installment of the "Dhoom" franchise, has eulogised the promo of "Dhoom 3", which also features husband Abhishek Bachchan.
During a press conference on Friday, on the occasion of her 40th birthday, the actress said that the promo is fabulous and she is waiting for the release of the film.
"Dhoom 3 promo is fabulous. It's a franchise that all of us have enjoyed. It looks like it's going to be fun and everything it promises to be. So, I am definitely looking forward to 'Dhoom 3'," Aish told reporters.
"Dhoom 3" is the third film in the Dhoom franchise and features Aamir Khan, Abhishek, Uday Chopra and Katrina Kaif in the main roles.
Aishwarya was the part of "Dhoom 2", in which she was paired opposite Hrithik Roshan.
Earlier, Amitabh Bachchan took to twitter to praise the film and said the trailer is astounding.
"And... Adi Chopra calls me to his preview theatre to view the first trailer of 'DHOOM 3' .. astounding !! Such finesse !! (sic)," Big B wrote on Twitter.
"Dhoom 3" trailer was released on 30 October and since then it has gone viral on social networking sites and YouTube. The promo has been viewed more than 3,565,225 times.
The action thriller will hit screens on 20 December.