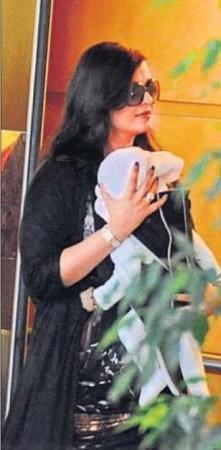 It's almost seven months and the world is yet to have a glimpse of Aishwarya Rai Bachchan's daughter, Aaradhya.
However, this time mother and daughter came close, as photographers caught them at Nice Côte d'Azur International airport on May 30. Aishwarya along with her daughter and mother Vrinda Rai made their way to the departure terminal.
The Bollywood star, who attended the 65th Cannes Film Festival in France, made sure that the photo journalist didn't come anywhere close to capturing Beti B.
The former Miss World, who is enjoying her motherhood, was captured wearing black shades, a flowing black dress and a carrier strapped to her chest to hold her daughter.
Her bodyguard and other assistants helped her from hiding Aaradhya's face from the paparazzi using a jacket, file and a stole.
The toddler was covered from head to toe in a baby pink color suit and a cap. But she was clearly seen wearing a black and gold beads bracelet on her hands.
Earlier there were speculations that Ash might introduce her daughter to the world at the Cannes film festival. Guess the world has to wait for sometime more to catch a glimpse of the world's most beautiful woman's daughter.
There was even a buzz that Aaradhya will make her debut appearance on Oprah Winfrey's "Next Chapter." But all hopes of seeing the little one were dashed.
Although, Beti B's face was covered, Hindustan Times was successful in getting the pictures of the mother-daughter.
Click here to see the photos of the Bollywood's most famous mother and daughter.
However, this is not the first time Aaradhya accompanied her mother. In March, Aaradhya travelled with mother to Dubai for the Dubai World Cup event and before that toddler went to Goa with her parents. But this is first time Ash and her daughter have been captured so closely.
The Bachchans' have been very protective when it comes to the newest member of the family. They even refused to confirm the baby's name for the first six months.