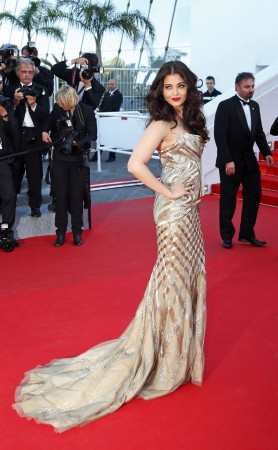 Aishwarya Rai Bachchan has again stunned the world with her recent appearance at the opening ceremony of the Commonwealth Games 2014, Glasgow, Scotland.
Aishwarya Rai attended the event as the ambassador of a watch brand. The actress looked gorgeous in Gucci Pre Fall 2014 black trench coat dress teamed with a teal clutch. She completed her gorgeous look with vintage bouffant.
One more of Aishwarya at the CWG for Longines pic.twitter.com/8DHMfFcwNQ

— archana sadanand (@archanasadanand) July 24, 2014
Aishwarya at the Common Wealth Games for Longines pic.twitter.com/NZes3HceJe — archana sadanand (@archanasadanand) July 24, 2014
Aishwarya Rai is in London with her daughter Aaradhya Bachchan to attend the event. Earlier this week, she was spotted holidaying with her daughter at the Oxford Street.
Several fans clicked the pictures of the mother-daughter duo and posted them on social networking sites. She also posed for selfies with her fans.
In May, the actress attended the Cannes Film Festival and completely shut her critics' mouth with her slimmer figure and gorgeous look. She looked stunningly beautiful when she walked the Cannes red carpet.
She has been attending the film festival for more than a decade now, but this was certainly her best appearance. Even her husband Abhishek praised her red carpet appearance.
"Almost 52hrs without sleep! Eyes shutting... and the Mrs. Shows up looking like this!! Ok.. Eyes wide open now," Abhishek tweeted with a photo of Aishwarya.
Later, the couple hosted amfAR (American Foundation for AIDS research) fundraising event, which was held in Cannes. Abhishek and Aishwarya are the Indian brand ambassador of amfAR and they hosted the annual event to support AIDS awareness.
"Tonight to the 21st annual Cinema Against AIDS event with the Mrs. to support @amfAR 's mission to find a cure for HIV. #amfARCannes," Jr. Bachchan tweeted in May.