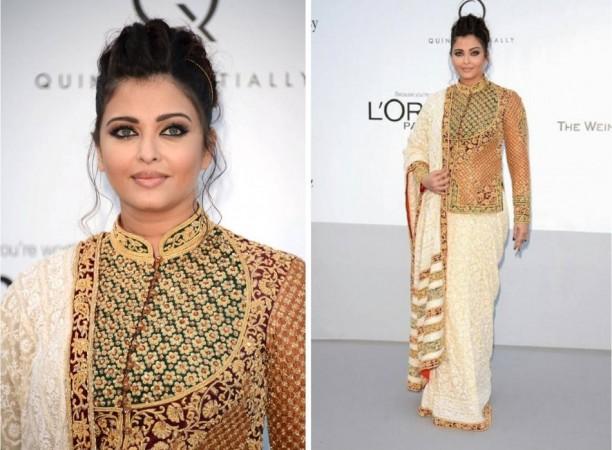 It seems media is trying to make Aishwarya Rai Bachchan lose her post-baby weight gain.
The Bollywood star has been criticized for her "oodles of weight gain," but luckily her 2012 Cannes appearances has helped her in appeasing the international media to some extent.
However, the actress' friends from the film industry have supported her since the time she became a subject of post-baby weight gain controversy.
The latest actress, who supported the former Miss World, is none other than yummy mummy Kajol. Kajol is reportedly furious over the continuous criticism Ash is facing after giving birth to daughter, Aaradhya, in November.
Kajol, who managed to get back in shape after two kids, snapped a reporter in an interview who asked her to comment on Aish oodles of weigh gain. Defending Aishwarya, the actress told the reporter that, "It's stupid to have this conversation. Everyone has the right to their lives and to look the way they want to!"
Kajol further added, "Tomorrow I can put on 25 kilos... it's my choice, my body! She's (Aishwarya) at home, taking care of her baby. As long as it doesn't affect her work, I don't understand why it should be under discussion."
Earlier, actress Sonali Bendre and Lara Dutta who managed to lose their post-baby weight gain also defended Ash.
"People are being too harsh on her. She has just had a baby. She deserves a break. Please let her be. Let her enjoy this happy phase of her life," Sonali Bendre said. Actress Lara Dutta, who gave birth to a baby boy, also condemned media for criticizing Aishwarya.
"You have no right to pass comments on women like Aishwarya, who have gone through a hard time during pregnancy. I stayed away from putting weight because of yoga during my pregnancy, but that's my personal choice which may not be the case with Ash. So, please refrain from getting judgmental. Respect the private life of Ash as a mother, who has every right to look however she wants," Lara told reporters.
But it looks like the 'Most Ideal Celebrity Mother' is not affected by the constant media censure. Ash recently attended the 65th Cannes Film Festival and showed off her curvaceous figure. The actress also said at the event that, "An actor is in the public eye so there will be opinions. And yes there is negativity, but I am blessed - the positivity is so much more that the negativity is just a drop. It slides right off. It doesn't stick."