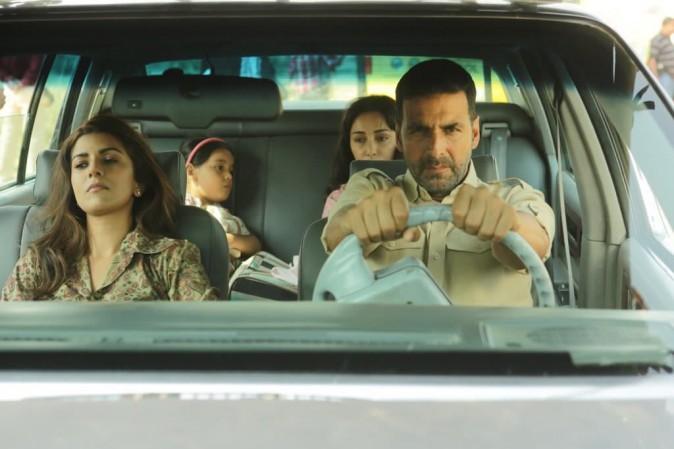 Bhushan Kumar's Bollywood movie "Airlift", featuring Akshay Kumar and Nimrat Kaur in the lead, has garnered positive reviews from the audience, who say the movie makes everyone feel proud to be Indian.
Check: Airlift critics review | Celebs Review | Movie Stills | Promotion Photos
Written and directed by Raja Menon, "Airlift" is a war movie based on a real-life incident. The film has a simple and straightforward story, about a heroic evacuation that has won a place in the Guinness World Records for India. The gripping screenplay makes the movie an edge-of-the-seat thriller, say the audiences.
Ranjit Katyal (Akshay Kumar) is a wealthy and powerful Indian businessman settled in Kuwait. He is married to Amrita (Nimrat Kaur), and feels prouder to be a Kuwaiti than an Indian. His life takes an interesting turn when Iraq invades Kuwait. How he evacuates 1.70 lakh Indians safely back to their home country forms the crux of the story.
Akshay Kumar has delivered a brilliant performance, which is the highlight of "Airlift". Nimrat Kaur, Feryna Wazheir, Inaamulhaq, Lena, Purab Kohli, Kumud Mishra and Prakash Belawadi have also done a superb job, and their performances are big assets of the movie, say the audience across the globe.
"Airlift" has superb production values. Amaal Mallik and Ankit Tiwari's music and background score, Priya Seth's cinematography, Hemanti Sarkar's editing and Raja Menon's gripping narration are main attractions on the technical front, say viewers. We bring you film-goers' verdict on the film, which they shared on Twitter. Here is the live update of the Airlift movie review by the audience:
Joginder Tuteja ‏@Tutejajoginder
1. Saw #Airlift. A terrific film in all regards. A tightly woven script that has realism meet entertainment, it makes you watch it wide eyed 2. #Airlift - Story risked getting strayed due to multiple chapters but the way @rajamenon &team handled it deserves full marks. Superb hold 3. #Airlift - Works as a dramatic thriller for its 2 hour duration and *never once* do you look the other way, such is the tout narrative! 4. #Airlift - Invasion scenes are superb and the constant presence of Iraqi army in Kuwait sends a shiver down your spine. Scares are real! 5. #Airlift - @akshaykumar delivers a PERFORMANCE OF A LIFETIME. He brings himself into a new zone with this one. This is true reinvention! 6. #Airlift @NimratOfficial is natural, Kumud Mishra is terrific, Purab Kohli and Prakash Belawade are good, Inaamulhaq is a revelation! 7. #Airlift A film you can't miss this patriotic season or for that matter any other season. A MUST WATCH - GREAT START to 2016. *****
Devansh Patel ‏@PatelDevansh
Saw @AirliftFilm - Its high risk heroism, its gripping and its humorous & it uplifts you. What else do u need? @akshaykumar @NimratOfficial The best thing about #Airlift is its casting and direction. None of them have gone over the top. Bow Down @RajaMenon Engaging & Entertaining #Airlift isn't just engaging coz its a true story, it is coz @RajaMenon tells the story well, building tension & maintaining hope throughout That monologue of yours @NimratOfficial I tell u! Fanboy moment darling. U got my attention & how! Bravo. My favourite scene from #Airlift & @akshaykumar you've never seen before. Calm, Clever, Composed & Calculated. #Airlift is a role of a lifetime for Akshay & he nails it! Find a historical tale very few are familiar with & tell it with the gusto of great fiction. That is #Airlift. Every frame is heart pounding
Shiva Satyam ‏@AsliShiva
Finally watched #Airlift & only one word to say:OUTSTANDING, @akshaykumar effort acting was supurb.@NimratOfficial had also done well acting #Airlift is really a such types of film which makes everybody to be proud.i am very very happy with this film.its going to a sure shot Hit. #Airlift is best film of @akshaykumar's carrier best film & every part of film is fantastic.direction little bit missed but rest all superb. #Airlift actions, screenplay,cinematography,editing & background score is very good. Music is ok.
Sidhu ‏@sidhuwrites
#Airlift Interval: Fine. More of an emotional drama than a thriller. AK impresses & Nimrat is pretty, but there are a few distractions. #Airlift: Fab flight. Takes off with turbulence, but it has a gripping second half & a hair raising culmination which make it worth a watch. #Airlift: Shades of Argo and Baby are unavoidable. Yet, what makes this special is the overall emotional connect and the patriotic feels.
KHARRAL ‏@_KHARRAL
Just saw one of the best film to come out of Indian Cinema.. Flawless, tight script great work by all in front of camera.. Hats off #Airlift
Prince Prithvi ‏@PrincePrithvi
#Airlift - Akshay Kumar strikes back with another classic! Impressive! #RanjitKatiyal #Proud (4.5☆/5) The only thing i didn't like about #Airlift was that General Iraqi. He looks, talks & walks like a Bengali #BadCasting The best thing about #Airlift or any other patriotic movies of @akshaykumar is they're devoid of jingoism! The innocence @akshaykumar brings in his #RanjitKatiyal character is pure bliss One of his best performance #Airlift Just finished #Airlift for the 2nd time this time with parents, and they loved it #HouseFull #StandingOvation
Sumit kadel ‏@Sumitrajkadel
Watched #Airlift . It's @akshaykumar best movie of his entire career. Indians will b proud of this movie. Take a bow Raja menon. OUTSTANDING
Omais Shariff ‏@omaisshariff
#Airlift @akshaykumar @NimratOfficial @AirliftFilm Just watched this Very Good & High Morale Film in #Qatar Very fine acting too.Must WATCH
Shashank Rayal ‏@shashank_rayal
#Airlift- Superb! most of the scenes gives you goosebumps and in the end, left you smiling with wet eyes. Kudos to entire team!!. 5 on 5
Salilacharya @Salilacharya
Somefilms grow on you and #airlift is one such film @akshaykumar is soo honest and @NimratOfficial wins it with her eyes , its not perfect but has its moments