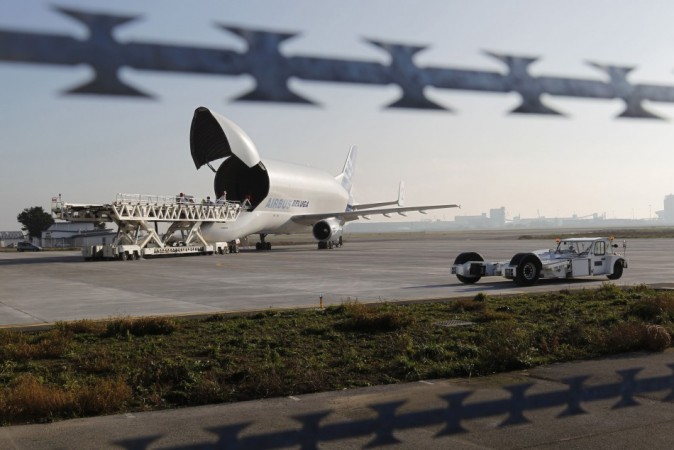 Leading aircraft manufacturer Airbus recently introduced one of the world's most eccentric airplanes, called "Beluga", in the French city of Toulose. The cargo aircraft owes its name to its resemblance to the white Arctic whale.
Beluga, officially known as Airbus A300-600ST, plays a crucial role in European Aviation, despite its quirky appearance.
According to CNN, Airbus' manufacturing centers are disseminated across Europe as a consortium, wherein each factory works and specializes in the finishing of a specific segment of an aircraft. There are five Belugas which are operated by Airbus that eventually link these plants and take the various airplane sections to the final production or assembly line, either in Hamburg or Toulouse.
The five Belugas are nothing but Airbus A300-600 jets which have been modified to load, carry and transport bulk cargo. The topmost part of an Airbus A300-600 is cut and an extra fuselage section, similar to a bubble, is added to provide the airframe with unique and characteristic features.
The maximum payload of a Beluga is 47 tons and the hold it generates consequently helps the airplane to transport oversized cargo, as well as aircraft parts. For instance, Beluga has the capacity to carry the wings of an A340 plane or the fuselage section of the newly made Airbus A350. On the contrary, the Beluga is not large enough to aid in transporting both the interior as well as the exterior parts of the A380 super jumbo.
Belugas are, more often than not, hired and operated to move satellites, helicopters and art-works at times.
Beluga XL in the Pipeline
Beluga XL, a sequel to the Beluga, is set to be manufactured by Airbus sooner or later. This make, again, would certainly prove to be a revelation in global aviation.
Beluga XL is an important part of the "Fly 10000 Program" initiated by Airbus, in order to support and strengthen the company's infrastructure and its overall production. As the name suggests, Beluga XL is expected to feature a relatively longer range in space & size, and stronger capacity to withstand and transport bulkier payloads.
If the project goes through, it would primarily aim at landing the aircraft on short run-ways, much more effortlessly than the Beluga.