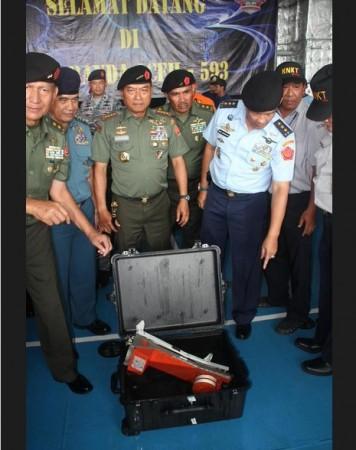 Investigators have ruled out a terror angle in the downing of AirAsia QZ8501 flight, as the cockpit voice recorder did not reveal any sounds of gunfire or explosions.
The two black box units of the doomed plane – the voice recorder and the flight data recorder – were pulled out from the Java Sea last week, opening the way for investigators to understand the cause behind the crash.
"We didn't hear any other person, no explosion," Nurcahyo Utomo, an investigator with Indonesia's National Transportation Safety Committee, said.
The plane is believed to have encountered bad weather before it crashed into the Java Sea on 28 December with 162 people on board.
As per the recording, the pilots seemed to be too involved in attempting to regain control over the plane to send a distress signal, investigator Andreas Hananto told BBC.
Hananto said the recordings showed there was "no threatening voice on board".
The focus has now shifted to a possible human error or a technical problem in the plane that may have caused the crash.
Indonesia's Agency for Meteorological, Climatological and Geophysics had hinted at possible icing in the plane's engine as a reason behind the crash.
The safety committee is set to release a preliminary report on the black box findings on 28 January, according to Channel News Asia.