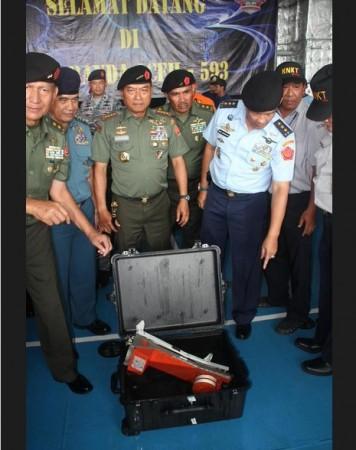 The cockpit voice recorder of the crashed AirAsia QZ8501 flight has been retrieved a day after the other unit of the plane's black box, the flight data recorder, was pulled out from the Java Sea.
The cockpit voice recorder, which holds the conversations between pilots and other sounds, will be key in determining the cause of the plane crash on 28 December, with 162 people on board.
The black box was taken on an Indonesian Navy ship and is likely to be flown to Jakarta, where the two units will be analysed.
The initial results from the analysis of the plane's black box can be out in two days, according to officials.
The data recorder is expected to hold crucial information about the last operations by the pilots, the condition of the engine, the last altitude and whether the plane stalled before coming down.
The black box is said to be in a fairly good condition, which could facilitate analysis.
France's air safety agency BEA and aircraft manufacturer Airbus are also slated to join the analysis.