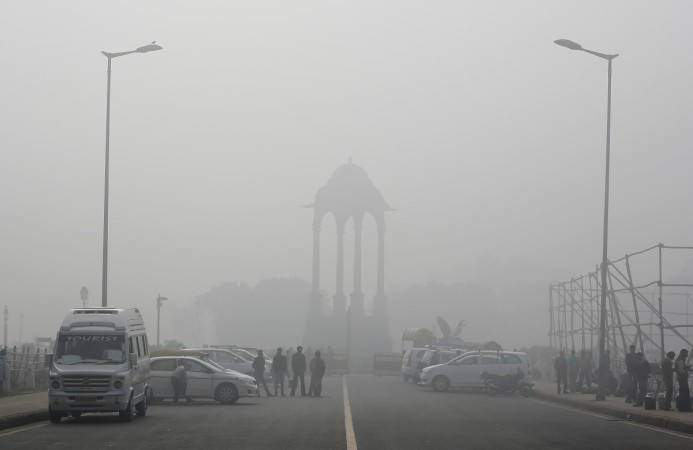 Air pollution in New Delhi has gone up to a "very unhealthy" level, a new report released by the U.S. Embassy based in New Delhi shows.
The warning came after the air quality monitor situated at the Embassy premises in Chanakyapuri, recorded an Air Quality Index (AQI) reading of PM 2.5 at 252, at 10 a.m. on Wednesday, The Wall Street Journal reported.
PM 2.5 also known as fine particulate matter is an air pollutant that poses serious threat to human health. Data shows that the tiny particles can enter the respiratory tract and remain in the lungs for months.
An AQI reading of PM 2.5 between zero and 50 is considered to be "good," 51 to 100 falls under the category "moderate"; 101 to 150 "unhealthy for sensitive groups"; 151 to 200 "unhealthy" and 201 to 300 "very unhealthy." A reading of 301 to 500 is taken to be "hazardous" to involve in any outdoor activity.
The report on the Embassy's official website cautioned that the very unhealthy pollution of 201 to 300 can be life-threatening and can worsen "heart or lung disease" or can cause "premature mortality in persons with cardiopulmonary disease and the elderly," and "significant increase in respiratory effects in general population."
A study that appeared in journal Heart early this year had linked exposure to air pollutant PM 2.5 to irregular heart rhythms, irregular heartbeat (atrial fibrillation) and blood clots in the lungs (pulmonary embolism).
Citing the health risk of being exposed to the deadly pollutants, the Embassy report recommended the common public mainly old people, children, and heart and lung patients to restrict outdoor activities.
The same situation continued in New Delhi on Thursday when the monitor calculated the AQI at 266 at 2 p.m.
Air quality in Delhi had been poor since Diwali. The situation is more likely to worsen with the onset of winter in the first week of November, The Times of India reported.
The quality of air in Delhi has been a source of concern lately. A WHO report out in May ranked Delhi as the most polluted city in the world.