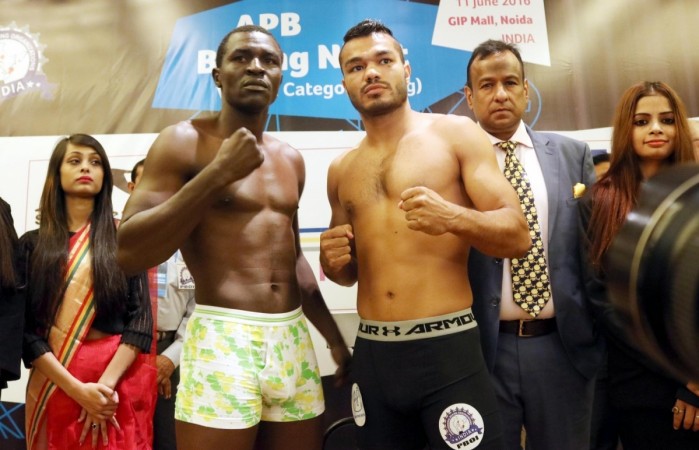 Indian boxer Vikas Krishan Yadav will face Nickson Abaka of Kenya in an AIBA Pro Boxing event at a Noida mall in New Delhi on Saturday. The 24-year-old southpaw pugilist from Bhiwani is keen to compete in at least two Olympic qualifier events for a berth for the nation in the Rio Olympics.
So far, Shiva Thapa is the only Indian boxer to have qualified for the sporting event, scheduled for an Aug. 5 start.
Scheduled for six rounds, the Pro Boxing fight on Saturday is being conducted by the International Boxing Association (AIBA) and the Professional Boxing Organisation of India (PBOI). Vikas, an Asian Games gold medallist, wants to compete in both the Olympic Qualifiers — in Azerbaijan, scheduled for a June 16 start and in Venezuela, scheduled for early July — to have a greater advantage in qualifying for the event.
He is not yet a pro boxer, but winning against Abaka would give Vikas a real chance of taking up the sport as a professional.
"This is a great opportunity for me and I will make the most of it," Vikas was quoted as saying by the Press Trust of India on Friday. "Going to Venezuela would be good for exposure. It will help me test myself against stronger guys. So I would be keen to go even if I qualify in Azerbaijan."
AIBA Pro Boxing (APB) Managing Director Mirko Wolf also acknowledged Vikas' talent and said they would give him every opportunity to seal another berth for India in boxing at Rio 2016.
"India has huge potential and we know this. At this time, we thought what is it that we can do to help? That's how APB was brought here," said Wolf. "I know Vikas, he is a brilliant boxer and this bout gives him a chance to be eligible for the Olympic qualifiers. We thought a talented boxer like him deserves a chance, so we are here.
"By bringing AIBA Pro Boxing to India, we are taking boxing to a new level in India."