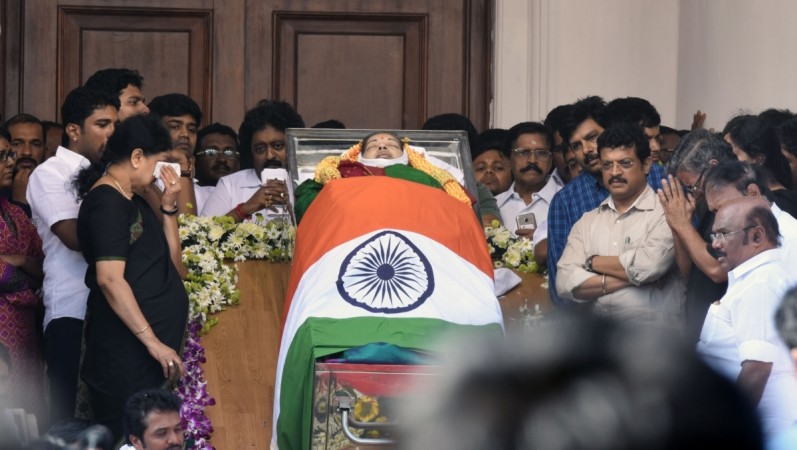 After suspended AIADMK MP Sasikala Pushpa's husband and lawyer tried to submit an application to contest positions in the party during the general council meeting to be held on Thursday, party cadre beat four of them outside the party headquarters in Chennai on Wednesday.
Also read: Did Thala Ajith really meet Sasikala?
They were rescued by the police and were found in a bleeding condition. Sasikala was thrown out of the party for anti-party activities. Later, she lashed out at Sasikala Natarajan, who is expected to be elected as party chief on December 29, saying Natarajan and her family will ruin the AIADMK.
Party cadre anticipated the arrival of Sasikala and others at the AIADMK office. Their nomination papers were rejected. The staff refused to accept the papers saying that senior staffs were not present.
"Sasikala Pushpa, her husband and a general council member, K S Mani, from Mumbai wanted to file the nomination papers," said an insider.
"She (Sasikala Pushpa) is no more in AIADMK, what right does she have to come to the party office?" CR Saraswathy, AIADMK told ANI.
After Jayalalithaa's death, she moved the court seeking a CBI probe into her death since her illness was kept under wraps. Sasikala was reportedly sitting in a car when the clashes took place.
"Who is she? She has no links with the party. She was expelled by Amma (former chief minister J Jayalalithaa). There is no doubt that Chinnamma (V K Sasikala) will take over as party general secretary. This is a unanimous demand of partymen and the desire of 1.5crore partymen," said Tamil Nadu municipal administration minister S P Velumani to a local TV channel.
AIADMK spokesman Avadi Kumar said, "The violence was instigated to deliberately create a ruckus on the eve of the party general council meeting."