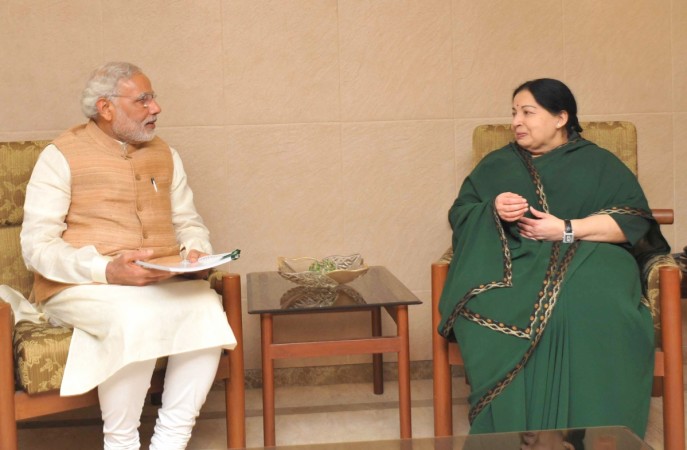 The All India Anna Dravida Munnetra Kazhagam (AIADMK) is likely to join the BJP-led NDA in less than 15 days, suggests a report. If the BJP does manage to win over Jayalalithaa-led AIADMK, it will strengthen the NDA's numbers in the Rajya Sabha, where it is in a minority and hence hamstrung when it comes to passing legislations such as the Goods and Services Tax (GST) Bill.
"It (the entry) remains to be finalised," the Telegraph quoted a BJP source as saying. The deal could be finalised within a fortnight in New Delhi, where Prime Minister Narendra Modi and Tamil Nadu Chief Minister J Jalayalithaa are scheduled to meet, the daily added. Modi will be returning to India from his five-day, five-nation tour on Wednesday, June 8.
"For all practical purposes, the AIADMK is with the NDA. We need to formalise the arrangement," another BJP source told the Kolkata-based daily.
The AIADMK has 12 members in the Rajya Sabha after the recent round of elections to the Upper House, up from its earlier tally of 11 seats.
The AIADMK's anti-GST stance has not helped the BJP in the Rajya Sabha. This, however, could change after the recent Tamil Nadu assembly polls last month that saw Jayalalithaa getting a second term.
The Modi government needs a two-thirds majority to pass the GST Bill in the Rajya Sabha that has 245 seats, since it is a constitution amendment legislation.
The GST (Constitution Amendment) Bill will be introduced in the Rajya Sabha during the monsoon session of Parliament next month.
The BJP has 49 seats in the Rajya Sabha, 15 less than the Congress'.
The BJP's allies such as the Shiv Sena, Telugu Desam Party and Akali Dal are relatively smaller in the Rajya Sabha, as against its rivals such as the Janata Dal (U) that has 13 and the Trinamool Congress with a strength of 12 seats.