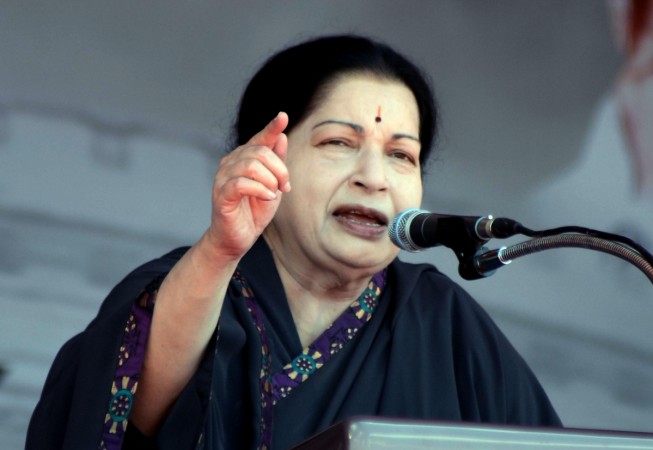 All India Anna Dravida Munnetra Kazhagam (AIADMK) leader and Rajya Sabha member Sasikala Pushpa was on Monday sacked from the party for bringing ill-repute to the regional outfit, said AIADMK General Secretary and Tamil Nadu Chief Minister J Jayalalitha. The action on Sasikala came two days after she reportedly slapped Dravida Munnetra Kazhagam leader Tiruchi Siva, aka Trichy Siva, at the Indira Gandhi International (IGI) Airport in New Delhi.
Meanwhile, Sasikala said in the Rajya Sabha on Monday: "I need protection. I don't have safety in Tamil Nadu. There is a threat for my life." She broke down in the Upper House of Parliament while making these claims. She also said before she was sacked: "I'm being compelled to resign from my constitutional post.I will not do it."
She also got the rumour mills running when she said: "If an MP is being slapped by a leader, what is this? We should have human dignity." It gave rise to speculations that Jayalalitha, of whom she has been a close aide, had physically assaulted her.
She later said outside Parliament she was confined against her will in Poes Garden, which is Jayalalitha's residence. She said she was not allowed to go home and "kept like a dog" at Poes Garden. When asked if Jayalalitha or someone else had hit her, she was silent.
Sources say it all started when Sasikala and Siva were to take the same flight to Chennai from Delhi at IGI Airport on Friday. On learning that Siva would travel in the same flight, Sasikala is said to have sought Siva out and assaulted him. Siva said Sasikala had slapped her.
Officials at the airport said of Sasikala: "She suddenly ran towards him [Siva] and holding him by neck slapped him. The incident occurred in front of a CISF personnel. The CISF intervened and informed senior officials. The whole incident was captured in CCTV cameras installed at the IGI Airport."
Siva subsequently did not board the Jet Airways flight.
Each parliamentarian is said to have briefed their party leaders about the incident — Sasikala to Jayalalitha and M Karunanidhi. Sasikala's sacking from the AIADMK came after that.
Interestingly, both Sasikala and Trichy had earlier been embroiled in a controversy in which the two had been seen getting quite intimate in a series of photographs.