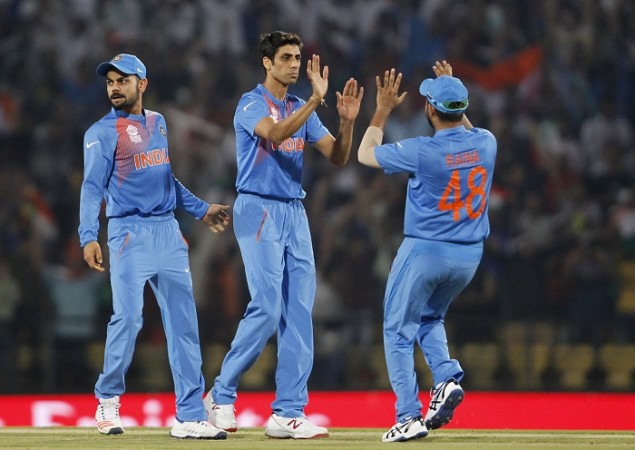 Ahead of India's first Twenty20 International against Australia in Ranchi tonight (October 7), captain Virat Kohli has spoken about veteran pacer and "good man" Ashish Nehra.
When the Board of Control for Cricket in India's (BCCI) selectors announced the national squad for the three T20Is against Australia, many were surprised to see Nehra's name.
The 38-year-old left-arm bowler has not played for India since February this year. And since the Indian Premier League (IPL) in May, he has not featured in any competitive cricket.
Also read: India-Australia series schedule
The MSK Prasad-led selection panel preferred fitness, experience over age as they picked the Delhi seamer.
Nehra, who made his international debut way back in 1999 under Mohammad Azharuddin's captain, has been impressive in the shorter format of the game.
In a fun episode of "Breakfast with Champions", Kohli opened up about Nehraji.
On Saturay, the host of the show - Gaurav Kapur tweeted a "small taste" of Kohli talking about Nehra.
"I have come here only because I watched the previous (Ashish Nehra's) episode," Kohli said.
He continued, "I was inspired by that...I didn't feel like coming until I saw Nehraji's episode.
"It was amazing! I have never watched an interview like this in my life. People don't really know that he (Nehra) doesn't try to be funny, but he is. That is what we love about him....But he is a good man."
The Indian skipper said he was looking forward to meet "Ashu bhai" during the T20Is.
"Ashu bhai is a class apart. Now we will meet him during the T20s," he said.
Nehra has so far played 17 Tests, 120 ODIs and 26 T20Is for India. He was a part of India's World Cup winning squad in 2011.
Watch the promo of Kohli's interview here