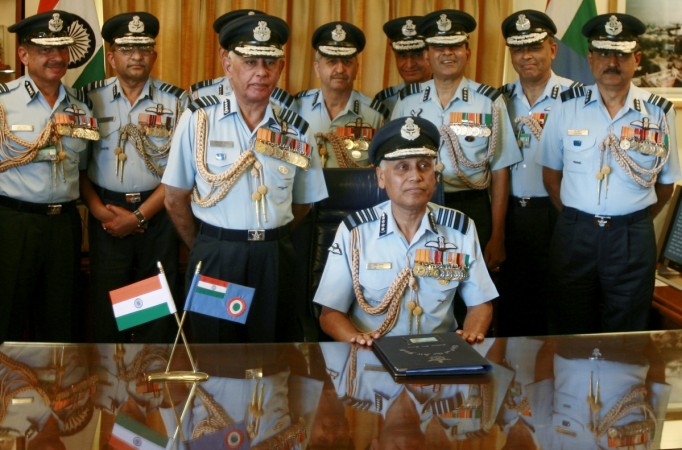 Former Indian Air Force chief SP Tyagi is set to be questioned by the Enforcement Directorate (ED) and the CBI in connection with the Rs 3,600 crore AgustaWestland chopper deal. Tyagi has been accused of meeting Agusta officials while in office and tailoring specifications for helicopters to help the Italian company win the bid.
The ex-air force chief has been summoned under the Prevention of Money Laundering Act (PMLA), according to the Times of India. According to the newspaper, the ED's probe shows the trail of money from kickbacks for the chopper deal reaching three of Tyagi's relatives.
A verdict by the the Milan Appellate Court said Tyagi had met Agusta officials with his cousin while in office and had also passed on information of change in the helicopter specifications to the company. Tyagi headed the air force between 2005 and 2007.
He is likely to be questioned by the two agencies next week. The CBI will also question former Indian Air Force (IAF) officer Air Marshal JS Gujral (retd.) on Saturday in connection with the case, according to NDTV.
The chopper scam has come to rock the Indian Parliament after an Italian court convicted Giuseppe Orsi, former head of Agusta's parent company Finmeccanica of corruption in the deal, in which Rs 360 crore were paid as kickbacks.
The issue has also embroiled Congress party President Sonia Gandhi, with the ruling Bharatiya Janata Party cornering her in Parliament. BJP leader Subramanian Swamy had taken Gandhi's name in the Rajya Sabha, claiming that she had been mentioned in the Italian court's proceedings.
According to reports, Gandhi was named in a letter by Christian Michel, the middleman in the AgustaWestland scandal, wherein he describes "Signora Gandhi" as "the driving force behind VIP helicopters."
[1 lakh = 100,000 | 1 crore = 10 million | 100 crore = 1 billion]