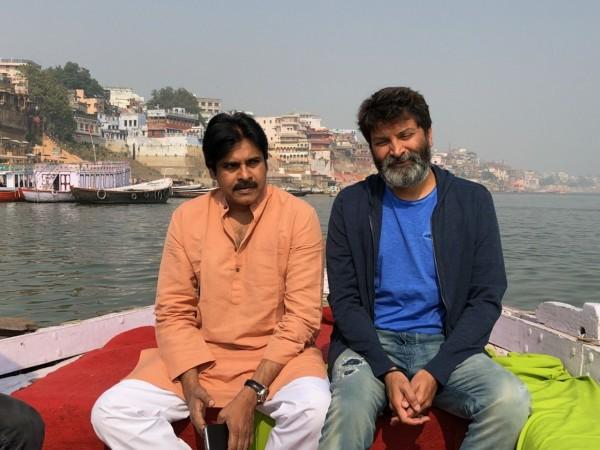 Power star Pawan Kalyan and Trivikram Srinivas revealed the title of PSPK25 and launched the first look of the movie Agnyathavasi (Agnyaathavaasi) from a boat in Varanasi this morning.
It was already announced that Pawan Kalyan would reveal the title of PSPK25 and its first look on Monday. But the power star surprised everyone this morning by introducing the Twitter account of his production house Pawan Kalyan Creative Works. The page was created back in January 2011 and the actor posted the comment on Sunday night. This had fuelled several speculations about the movie.
Pawan Kalyan wrote on the Twitter handle of PK Creative Works on Sunday: "My humble salute to the Pioneers of our Indian Cinema - "Sri Dada Saheb Phalke & Sri Raghupathi Venkaiah Naidu..."
Later, Pawan Kalyan took to his own Twitter account and shared the link to the page on his banner. He also wrote: "I would like to pay my respects & love to cinema which gave me your immense love & the strength to serve our society through this platform - @pkcreativeworks which is my new twitter account dedicated to cinema.."
The first look and title of Agnyathavasi were scheduled to be revealed at 10.00 am, but it got delayed by an hour. It was reported that the delay was due to the technical problems. Some film buffs could not stop wondering about the reason for the delay in the release of its poster.
But it became clear when Pawan Kalyan posted few photos featuring him with Trivikram Srinivas releasing the first look of Agnyathavasi from a boat in Varanasi. Releasing the first look, he wrote: "From the "Holy Ghats of Varanasi " here comes "Agnyaathavaasi".."
Agnathavasi is made with the tagline 'Prince in Exile.' The title and tagline have generated a lot of curiosity about the movie, which is scheduled for Sankranti release. The first look has impressed the fans and it has gone viral on social media.