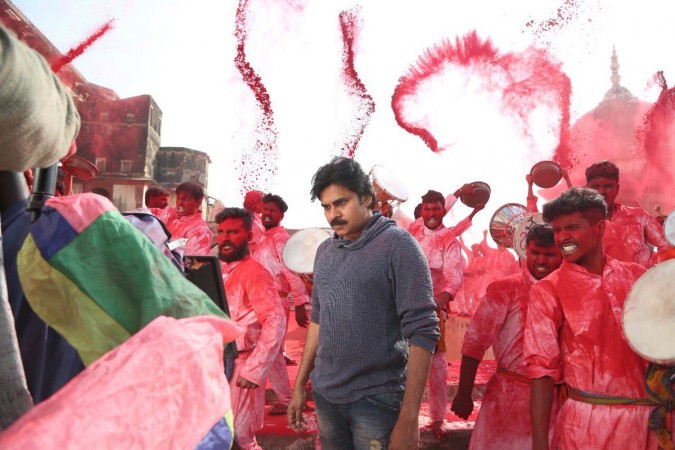 The makers of Agnyaathavaasi (Agnathavasi) trimmed the boring scenes and added the scenes of Venkatesh and Antakshari, but their plan B has failed to boost its collection at the worldwide box office.
The huge hype and hysteria helped Agnyaathavaasi get a thunderous response and surpass the Rs 60-crore mark at the worldwide box office on its opening day. But most of the filmgoers were disappointed with the movie and the negative talk resulted in a steep decline in the collection on the second day.
The makers of Agnyaathavaasi immediately got into the damage control mode and based on the viewers' response, they trimmed boring scenes in the first half of the film and added scenes featuring Venkatesh and Antakshari team Gabbar Singh. They went to release this edited version of the film in many cinema halls on Friday and Saturday.
Read: Agnyaathavaasi review | Audience Review | Critics Review
After hearing about the edited version, many filmgoers, who had already watched Agnyaathavaasi, visited cinema halls to experience it again and they enjoyed the movie. Later, some of them took to Twitter and shared that they enjoyed the new version of the movie.
A viewer named Sai Tarun (@saitarun1) tweeted: "Watched 2nd tym! Reedited version! All the (g*y) unnecessary scenes were deleted!!!1st half was eyecatching and neat now!!!!coming to second half..(1/2)#Agnyaathavaasi 2nd half was added with venki scenes and gabbarsingh antakshari team scenes.....some kushi(interval scene) n gabbarsingh clips were added...venkatesh scenes didn't do much to the film..but anthakshari team and some clips add extra entertainment to the 2nd half2/3 #Agnyaathavaasi."
Another with the handle Cinema Radar (@cinema_radar) wrote: "Watched #Agnyaathavaasi Again for #Venkatesh scenes This scenes were hilarious These scenes were liked by #pkfans Boring scenes has been trimmed in First half. Makes crisp first half."
The makers executed their plan B thinking that it would boost the collection of Agnyaathavaasi at the box office and save the distributors from suffering huge losses. But if we are to go by the numbers, the plan B had a least impact on its business. Instead of going up, its collection continued to dip on both Friday and Saturday.