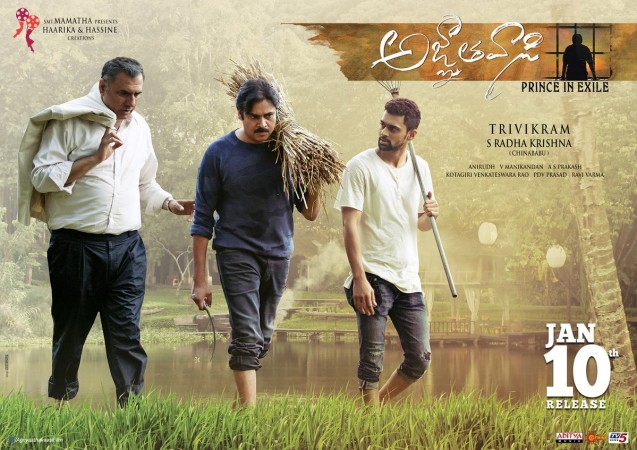 Trivikram Srinivas' Agnyaathavaasi (Agnathavasi/Agnyaathavaasi/PSPK25) has collected Rs 89 crore at the worldwide box office in seven days. The film is inching closer towards the Rs 100-crore mark.
Agnyaathavaasi opened to massive response and collected over Rs 60 crore gross at the worldwide box office on its opening day. It was expected to surpass the mark of Rs 100 crore gross in the global market in the next couple of days.
But Agnyaathavaasi was hit badly by negative word-of-mouth publicity, which took its collection down by over 80 percent on its second day. Jai Simha, Gang and Rangula Raatnam, which hit the screens two days after its release, took a further toll on its collection on the following days.
Read: Agnyaathavaasi review | Audience Review | Critics Review
Agnyaathavaasi has grossed approximately Rs 60 crore in Andhra Pradesh and Telangana, Rs 10.50 crore in Karnataka and Rs 18.50 crore in the US and other parts of India and the world in seven days.
Agnyaathavaasi has collected a total of Rs 89 crore gross at the worldwide box office in seven days. The movie needs Rs 11 crore to surpass the mark of Rs 100 crore gross. As per its current pace of collection, the film will not be able to achieve these numbers by the end of its nine-day-extended first week.
Made on a budget of Rs 70 crore, Agnyaathavaasi fetched Rs 125 crore from the sale of its global theatrical rights. The movie has earned Rs 55 crore for its distributors, recovering 44 percent of their investments.
Its current trends show the film will return another 20-25 percent in the coming days. It is likely to spell huge losses for its distributors.
Here are the details of the theatrical rights and area-wise earnings of Agnyaathavaasi. These are estimated numbers, which may not match with actual figures. All the numbers are in Rs and crore.
| | | | |
| --- | --- | --- | --- |
| Rights | Rights | Earnings | Recovery (%) |
| Nizam | 29.10 | 10.35 | 35.56 |
| Ceded | 16.30 | 5.10 | 31.28 |
| Vizag | 11.90 | 5.21 | 43.78 |
| G East | 8.10 | 3.82 | 47.16 |
| G West | 6.80 | 4.47 | 65.73 |
| Krishna | 7.10 | 3.08 | 43.38 |
| Guntur | 8.90 | 5.01 | 56.29 |
| Nellore | 4.10 | 2.16 | 52.68 |
| AP/T Total | 92.30 | 39.20 | 42.47 |
| Karnataka | 10.90 | 6.25 | 57.33 |
| Rest of India | 2.40 | 1.05 | 43.75 |
| Overseas | 19.40 | 8.50 | 43.81 |
| Global Total | 125.00 | 55.00 | 44.00 |