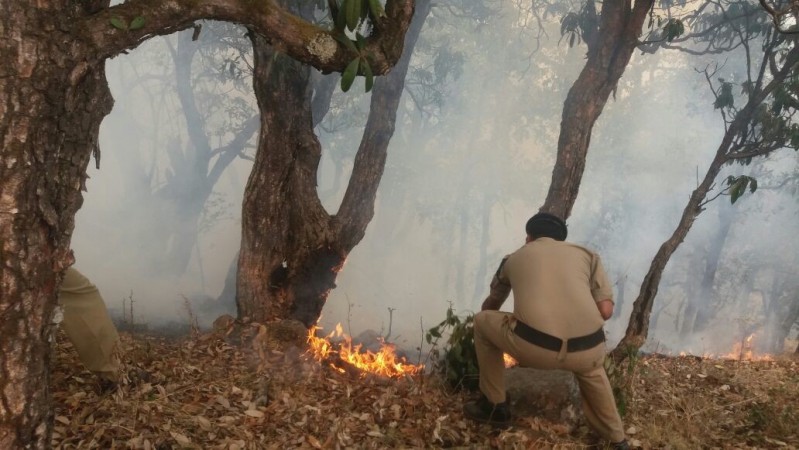 Students of the residential Lawrence School in Himachal Pradesh's Kasauli reportedly panicked on Tuesday morning as a raging forest fire was spotted nearby. Authorities swooped in soon after and doused the fire near the 169-year-old school after fighting it for two hours, the Press Trust of India reported.
After massive forest fires were reported in Uttarakhand, other higher altitude states like Himachal Pradesh and Jammu and Kashmir also experienced similar fires in a smaller scale. The fires in Uttarakhand, which are believed to have destroyed at least 3,000 hectares of forests, are likely to melt glaciers in the Himalayas sooner and impact wildlife, according to experts.
The black carbon from the ash and smoke will melt glaciers faster, the environmental experts told NDTV on Tuesday.
At least five people have died in Uttarakhand due to the forest fires, which have been brought almost under control, according to the Environment Minister Prakash Javadekar. He was quoted by NDTV as saying that the fires would be under control in the next two days.
"While larger animals such as tigers, elephants, deer and wild boars have for ages managed to steer clear of fires and make their way to safer grounds, the real loss to our biodiversity is to birds which lay eggs on shrubs and their young ones who cannot escape the inferno," Uttarakhand Chief Conservator of Forests Jai Raj told NDTV.
A residential school in Uttarakhand had to be evacuated on Monday as the forest fire had reached the school's boundary walls.
At least 50 hectares of green cover has been lost in Himachal Pradesh. Chief Minister Virbhadra Singh was quoted as saying by ANI that the fires were nothing new as high temperatures lead to forest fires.