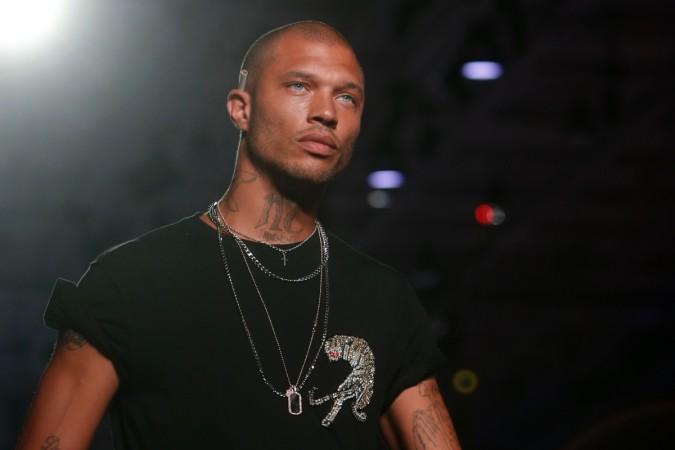 From felony to fashion, Jeremy Meeks has come a long way. And just when we thought that the "world's hottest felon" had really turned his life around, doing so well for himself in the world of glamour, here comes another surprise. The former convict seems to be having the time of his life and was seen kissing and cozying up to Topshop heiress Chloe Green over the weekend.
The duo was seen onboard a yacht at the Mediterranean off Turkey and barely managed to keep their hands off each other. They later moved their PDA to the deck where Green was seen lounging on Meeks' lap while he holds her close.
While the former convict is said to be married and is father to two children, Green seemed to confirm the relationship on Instagram. She shared a picture with Meeks with a caption that read: "Just the Beginning... We appreciate all the love and the hate," reported Us Magazine. The post has now been taken down.
Meanwhile, Meeks and his wife Melissa are yet to comment on the images.
Meeks first garnered international attention when he was arrested on gang-related charges and his mug shot made its way to the internet in 2014. He was arrested for possessing a .45 caliber semiautomatic pistol and had admitted that he was a gang member. While he was released in 2016 and has since turned his life around in the most "fashionable" way, he has previously served a nine-year sentence a felony grand theft conviction from 2002, reported Mirror UK.
He was tagged as the "hottest felon" and since his release, Meeks has made quite some news in the fashion industry. In June, he scorched the Milan Fashion Week runway in the Philipp Plein Sport show.
Meeks first walked the runway in a casual rebellious look. Dressed in a black t-shirt and blue ripped jeans, the 33-year-old carried a motorcycle jacket and accessorised with a few funky chains. A cigarette carelessly tucked behind his ear completed his look. He then changed into low-rise khaki slim fit trousers and went topless creating quite a stir on social media.
Meeks made a runway debut at the New York Fashion Week for Plein in February this year and seems to have impressed the designer enough to be roped in once again for his Milan Fashion Week show.

However, who would have thought the Meeks would be making news for his modelling assignments when he first caught the public eye. Probably, not even him! And after landing some enviable fashion assignments, he seems to have snagged Topshop heiress Chloe Green.