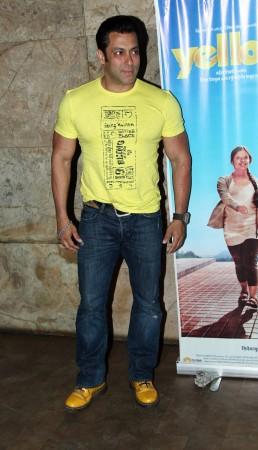 After "Ek Villain" actress Shraddha Kapoor, the paparazzi have now refused to take pictures of superstar Salman Khan. The photographers have decided to boycott the actor until the release of his film "Kick."
But Khan, who is known for losing temper, is least bothered about the latest controversy. The actor posted series of tweets and hinted that the photographers are at loss for boycotting him.
this is wat I call a stand, the photographers r gonna loose out on wrk, but hv still taken a decision not to take my pics, happy fr them .

— Salman Khan (@BeingSalmanKhan) July 14, 2014
I wld hv immense respect for them if they keep this stand . — Salman Khan (@BeingSalmanKhan) July 14, 2014
Ha ha ha pic.twitter.com/GoiL9bVcfP

— Salman Khan (@BeingSalmanKhan) July 14, 2014
On Friday, during the launch of the special song "Devil" from his film "Kick," Khan's bodyguards and bouncers had an altercation with the photographers present at the venue. According to photographers, bouncers and the bodyguard misbehaved with them and they want Khan to apologise for that.
"Salman Khan needs to apologise to us or else we will not photograph him. The blackout will continue till July 25 when his film 'Kick' hits theatres. We will not click him even if we see him cycling at Bandstand. Our union will take up the issue at a meeting on Monday," a photographer told Mumbai Mirror.
Following the tiff, Salman interfered and said that whoever wants to stay may stay, whoever wants to leave can leave. Salman's statement further aggravated the whole issue.
The director-producer Sajid Nadiadwala chose to remain silent over the whole issue, but a source close to the film said Salman is not at fault and there is no need for him to apologise to paparazzi.
"The photographers are getting more aggressive and unreasonable by the day. They refuse to follow instructions. Salman does not need to apologise as it was not his mistake, he did not touch anybody," the source said.
The incident happened when the star denied to pose for the photographers at a particular spot. Photographers said that the actor should have accepted the request; the source said they should have waited for him for few more minutes.
"He would have posed, if they waited a few minutes. After all, Salman was at the event to get clicked."
Earlier this month, Shraddha Kapoor was also boycotted by the paparazzi for her unpleasant behaviour. Apparently, the actress refused to let photographers take her pictures, which miffed them. They decided not to click even a single photo of her. Later, Kapoor had arranged a meeting with the press photographers and explained them her side of the story.
"The actress did look apologetic and said whatever had happened in the past was a mistake and not intentional. She stressed that it would not happen again,'' Mid-Day quoted a source.