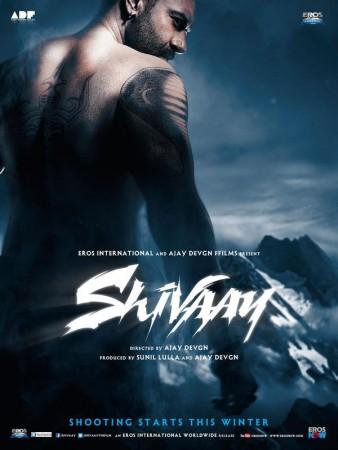 Bollywood actor Ajay Devgn will soon appear as the lead in his upcoming film "Shivaay". Additionally, he has also produced and directed the film.
Recent buzz has it that Devgn has also turned singer for his home production flick and the actor will sing the title track of the film. "Since the film's inspiration is Lord Shiva, the song needed to emanate power, charisma and a certain intensity. I couldn't think of anyone but Ajay to sing it," Mumbai Mirror quoted Mithoon, who has been working on this film's music, as saying.
"I discussed the idea with him in January before he left to shoot in Bulgaria. Ajay has a great ear for music and this song is the heart of the film. He loved the concept and agreed to sing," he added. The report also suggests that the song will have a few international singers too.
Mithoon further stated that Devgn not only agreed to croon the title track, but has also given complete freedom to Mithoon to experiment with the music. "Ajay and I share a great rapport which is why he feels comfortable singing for me. He is so passionate about this home production that he'll do anything that's in its best interest," Mithoon told Mumbai Mirror.
However, Devgn is not the first actor to make a singing debut. From Priyanka Chopra in "Dil Dhadakne Do" to Salman Khan in his production film "Hero", the superstars have won hearts with their singing talents as well. Recently, Amitabh Bachchan and Farhan Akhtar lent their voice to their film "Wazir".
Meanwhile "Shivaay", which also features Sayesha Saigal, is scheduled to release this year. After seeing the posters of "Shivaay", the film is expected to be a high-octane action drama. Devgn is known for risky stunts, and apparently the actor will take it to a different level for his upcoming film.
Devgn's first look shows him standing bare-bodied with a lot of tattoos on his back and arms. The photo shows a dark background and is quite impressive.