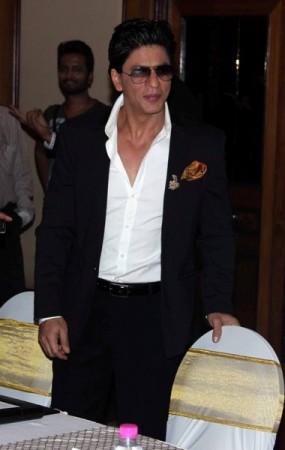 One time rival, Shah Rukh Khan and Ajay Devgn are friends again. After patching up with Salman Khan in a party last year, the "Chennai Express" actor ended his rivalry with Devgn on Monday.
Devgn, director Rohit Shetty and actress Kareena Kapoor Khan were shooting at a school in Bandra on Monday, when they got a surprise visit from Shah Rukh.
SRK was going to Mannat, when he saw Shetty's close aide near Mehboob Studio. The actor immediately rolled down his car windows and asked the person what he was doing in the area, The Times of India reported.
The person informed SRK that "Singham Returns" team including the lead actors and director were shooting at a nearby school. The actor then went on and surprised everyone when he hugged Devgn on the sets.
Even Shetty and Kareena were shocked to see the two actors, who had bitter fallout in 2012, giving a warm hug to each other, those present on the set told TOI.
Shetty always wanted Devgn and SRK to patch up as both of the actors are really close to him. But the surprise visit and hug on the set stunned the director.
During the release of "Son of Sardaar" (SOS) and "Jab Tak Hai Jaan" (JTHJ) in 2012, Devgn had filed a complaint against Yash Raj Films with Competition Commission of India (CCI) over the number of screens allotted to "JTHJ".
The dispute between the producers affected the relationship between SRK and Devgn. But all seems to be well between the two actors now.
Salman-Shah Rukh hug
Last year, Salman and Shah Rukh surprised everyone by hugging each other at an iftaar party hosted by Congress leader and Bandra MLA Baba Siddique. The "Karan Arjun" actors were once best buddies in B-Town, but they had a fallout in 2008.
Since then, both Salman and Shah Rukh avoided each other, but at the iftaar party, they ended their rivalry, much to the joy of onlookers.
Even after that, SRK attended an award ceremony in January, which was hosted by Salman. The two again hugged when SRK came on stage to receive the award.