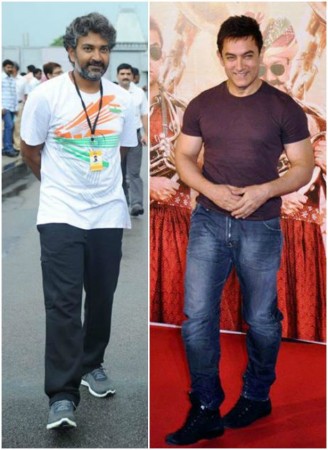 Bollywood superstar Aamir Khan says that he wants to work with director SS Rajamouli. Interestingly, his statement comes just a day after Tamil Superstar Rajinikanth said that he is ready to work with the "Baahubali" director if he gets an opportunity.
Aamir Khan is busy promoting his upcoming movie "PK," which is slated to release in theatres across the globe on 19 December. He was in Hyderabad to promote the film when he spoke about SS Rajamouli. "I will work with SS Rajamouli if I get a chance. I know him and he has a lot of talent. He is a creative director with content," Release Day quoted the Bollywood superstar as saying.
Director SS Rajamouli, who is now shooting for his upcoming movie "Baahubali," is a big fan of Aamir Khan and has himself expressed a desire to work with the Bollywood actor on several occasions. During the promotion of "Maakhi," the Hindi version of "Eega," he had spoken about his plans to do a Bollywood film with Khan.
"I love all actors from here. But I love Aamir Khan the most. I adore him and treat him as a guru. I like the way he makes films, the way he promotes them. If there is a chance, I would jump to direct him because I would learn so much from him," PTI quoted SS Rajamouli as saying in November 2012.
SS Rajamouli had said he would love to debut in Bollywood with a historical or mythological movie with strong subjects such as the story between Rana Pratap and Akbar, Shivaji and Aurangzeb. When quizzed whether Aamir Khan would be the best option for his debut, he had said, "That depends on the story, even though I would love to work with him. I cannot make a story that would not suit him and go ask him."