An old barb seems to be back to haunt the Bharatiya Janata Party once again: Party leader Chintamany Malviya — a Member of Parliament (MP) from Ujjain in Madhya Pradesh — has called Congress vice-president Rahul Gandhi a "nagar vadhu".
The term is from Hindi or Sanskrit usage and literally translates to "bride of the city." While the practice of a town bride was not a taboo in ancient times, the term has since come to mean courtesan or prostitute.
Malviya, interestingly, is the same BJP leader who had cast aspersions on filmmakers and their wives while trying to demand a ban on the Sanjay Leela Bhansali-directed film Padmavati.
Interestingly, this is hardly the first time a BJP leader has uttered such a word for a political rival: Uttar Pradesh BJP office-bearer Dayashankar Singh had last year, in the run-up to the elections in the state, used a similar term for Bahujan Samajwadi Party chief Mayawati, and was expelled from the party for it.
Interestingly, his wife was given a ticket to contest the UP Assembly elections, and she even won the seat! Singh was reinstated into the party after the BJP came to power in Uttar Pradesh.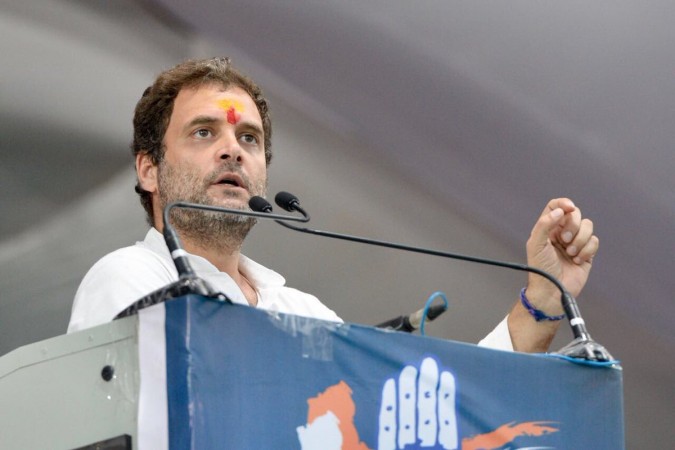 Religious row?
BJP MP Chintamani Malviya, in a long Facebook post on Monday, November 13, wrote in Hindi: "Kahin ye dharm nirapekshata waisi to nahi hai jaisa ki sunte aye hain ki ek nagar vadhu hi sabse zyada dharm nirapeksh hoti hai. Mann mein ye prashn aata hai ki Rahul Gandhi wali dharm nirapekshata kahin uss nagar vadhu ke jaisi to nahi?"
Loose translation: "Is it possible that this religious tolerance is like that of the nagar vadhu, who we have heard so often is the most tolerant when it comes to people's religions? One may even ask if Rahul Gandhi's religious tolerance is like that of the nagar vadhu?"
The remarks can be found in sentences six and seven of this post:
The statement came after Rahul Gandhi — who is on a temple-visiting spree in possibly an effort to counter the right-wing BJP and looking to defeat the saffron party in the Gujarat Assembly elections next month — said on Monday that he was "Shiv ka bhakt", or a devotee of Lord Shiva.
History of inflammatory remarks
Malviya, incidentally, is the same person who had, in a Facebook post on November 3, cast aspersions on wives of directors. He had written the post against upcoming Bollywood film Padmavati, which stars Deepika Padukone as the eponymous Rajput queen who immolated herself in a ceremony called Jauhar when Alauddin Khilji laid seige to her kingdom and killed her husband in an effort to gain her affections.
Malviya had written in that post: "People like Bhansali do not understand any other language. People like him only understand the language of shoes. This country will not disrespect Rani Padmavati. We will not tolerate any distortion of our history."
The distortion he was talking about was a romantic scene between Padmavati and Alauddin Khilji, filmed on rumoured couple Deepika and Ranveer Singh. Padmavati director Sanjay Leela Bhansali has said umpteen times for several months now that no such scene exists in the film.
Malviya had also written in his post: "How come filmmakers whose women family members change their husbands every day can understand 'Jauhar'? Mental deformity of Bhansali would not be tolerated in the name of freedom of expression."
Read the full post here: