At a time when intolerance and religious bigotry is grabbing headlines almost every day in the country, celebrities and sports personalities are becoming soft targets for hate mongers.
As it turns out, Irfan Pathan is facing backlash for posting a photo with his wife Safa Baig. The fast bowler, who is among the most active cricketers on social media, shared the photo along with a romantic caption: "This girl is trouble #love #wifey".
Online trollers were seemingly unhappy with the pacer's partner exposing her arms in the post, which according to them is against "Islamic rules". Despite wearing a hijab -- the traditional covering for hair and neck worn by Muslim women -- Baig should have been asked to cover her arms, according to the comments.
"Tell her to cover her arms. Being a muslim and being a Pathan its your duty to do so (sic)," wrote a Facebook user.
Some even opined that photos of Muslim girls should not be uploaded on social media platforms. There were comments, questioning the trolls' aggressive approach, but the abuses for Pathan, who has represented India in 27 Tests and 120 One Day Internationals, kept coming.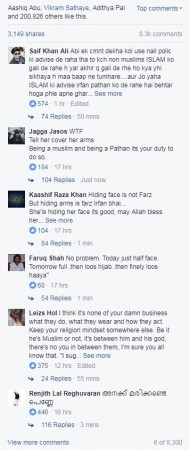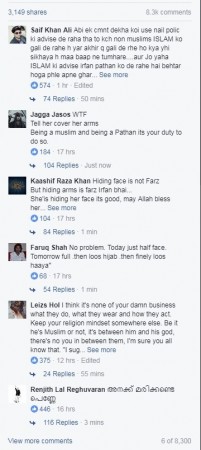 However, this is not the first instance of a celebrity being targeted by religious bigots. In December 2016, Mohammed Shami was on the receiving end from quite a few Facebook users after the speedster uploaded an image of his wife Hasin Jahan, who was not wearing a hijab, on the social media platform.
Quite a few celebrities, including former India player Mohammad Kaif had come out in support of the pacer and given a fitting reply to the hate mongers.