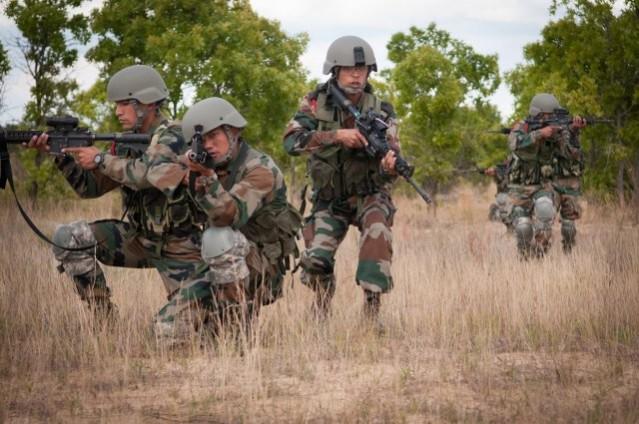 Indian Army is all set to hold the 'Yudh Abhyas' joint exercise with the US Army in September. It comes a month after the massive Malabar naval exercise in the Bay of Bengal between India, the US and Japan.
The finalisation of Yudh Abhyas that will be held at Joint-Base Lewis McChord comes at a time when India and China remain locked in a border standoff near Sikkim-Bhutan-Tibet trijunction.
As a part of their "strategic partnership and convergence", although India and the US have been looking into the scope, complexity and frequency of their bilateral military exercises, New Delhi still takes a back seat when it comes to entering into a formal trilateral or quadrilateral security axis taking into account China's aggressiveness to expand further in the Asia-Pacific region.
In the recent past, the US Department of Defence in a joint report to the Congress had said that there is a growing convergence between India and the US on the strategic outlook for the region. Further, India is being viewed as an important regional security partner within and beyond Indi-Asia-Pacific region.
This came soon after Prime Minister Narendra Modi and US President Donald Trump vowed to strengthen the already expanding India-US strategic ties. "There were certainly some apprehensions. But there are a lot of fundamentals in place to keep the bilateral defence and security cooperation on an upward trajectory," said a senior official told the Times of India.
Over 200 Indian soldiers from Gorkha rifles will participate in the "battalion-level field training exercise with a brigade level command post" which the two countries will reportedly upgrade to "a more complex, combined arms, divisional-level exercise."
An officer further mentioned that this exercise will further boost the interoperability between the two armies at a battalion and company level and will also help the Indian army understand the procedures followed by the US army.
Malabar exercise
In July, a trilateral joint naval exercise was conducted in the Bay of Bengal between the navies of India, Japan and the United States. The first exercise between India and the US was organised in 1994.
In 1998, the US had suspended the exercises after India conducted nuclear tests in Pokhran and faced the wrath of the international community. The American policy changed in the wake of the 9/11 attacks when the then-Bush administration chose India as a close partner in the international fight against terrorism.
With China emerging as a common threat to India and the US, and Japan being another competitor to China in Asia, this exercise has gained an entirely new geopolitical dynamic.